2018 Celtic Soccer Camp 
EVENT DATE: Monday - Wednesday, June 18-20, 2018
WELCOME TO GREATER LANSING! 
On behalf of the Greater Lansing Sports Authority we would like to welcome you to our community! Whether you're a first-time visitor, or a seasoned guest to the area, we're glad to be your host. You'll soon discover Michigan's Capital City is much more than buildings and byways. Michigan's Capital region offers everything you'll need to have an enjoyable visit whether you'll be with us for the day or are planning an extended stay. We look forward to hosting your event! This page was created to make your visit to the Greater Lansing area more enjoyable. It contains a wealth of information about our community and is intended for the use of coaches, players, spouses and fans. Hopefully this site will answer some of the questions about non-competition issues and allow you to focus more on the event and having fun! Please bookmark this page for all the details you'll need about our community!
Best of luck in your event and have a great time while you're here!
EVENT WEBSITE: 
http://www.celticfc.net/pages/celticsocceracademy_international
HOTEL INFORMATION: 
Event Schedule:
International Celtic Soccer Academy Camps
Imagine hosting a world famous Celtic Football Club camp at your club! Coaches from the Celtic Soccer Academy will travel to your club and deliver a week long camp based around the 'Celtic Way' in coaching young soccer players. These camps are for boys and girls of all ages and abilities and are designed so that the players attending will experience what it is like to be coached in the methods of Celtic Football Club. The coaching delivered will be focused on technical development which will include:
The 'Celtic Turns'
Ball Mastery
Receiving the ball
1v1 (Attacking & Defending)
Passing & Moving
Awareness
Control
Finishing
Small Sided Games
These are just some of the topics which will be covered from our coaching curriculum but most of all the players will have fun, learn new skills and meet new friends in a safe and welcoming environment created by top Celtic Soccer Academy coaches.
If you are interested in hosting a Celtic Soccer Academy camp or for more information then contact one of our International Soccer Academy Managers on: 
Willie McNab (North America)
Tel: +44 141 551 4335
Email: wmcnab@celticfc.co.uk
---
Greater Lansing On The Go!
For even more information on things to do with your family, download our new Family Fun Guide. This booklet has everything you need for a day, week, or all season long of fun for the whole family in Greater Lansing! If you prefer a printed copy, be sure to fill out the form located within the page linked below and check "Family Fun Guide" after you input your address information.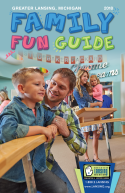 If you prefer to read our Visitor Guide "off screen," you can click here to request a copy to be mailed to you or download a printable pdf.