The end of a calendar year is always a natural time to do some reflecting. You think about all that has been seen and done in the previous year and begin to think about the year ahead. Well before we start to think about everything we have coming up, lets reflect a bit on some of the successes and exciting things we celebrated in the year just passed. After all it was a big year for Greater Lansing; lets enjoy our success before we move on!
Top 10 Moments in 2014
1. Ground was broken for three new hotels in the region, (Hyatt Place in Eastwood Towne Center, Residence Inn by Marriott in East Lansing and a Fairfield Inn & Suites) which is exciting because it obviously brings new lodging product into the community and it means the demand from visitors is there to support more hotels. More people are coming and we have nice new rooms waiting for them. Excellent!
2. One of Greater Lansing's favorite events, Be A Tourist In Your Own Town, celebrated its 20th year to resounding success. It looks like more and more every year residents are interested in getting out and finding more hidden gems in the community. Thats always a good thing.
3. Michigan State Football blew all of our collective minds and brought home the 2014 Rose Bowl Championship. After not having been to the mountain-top for around 20 years, the Spartans made it to the top and the fun thing going forward is they're sticking around. Thanks to Coach Mark Dantonio the Spartans are going to be a football team in the national conversation for years to come.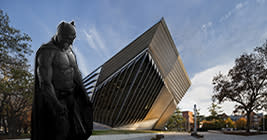 4. The Broad art museum made its movie debut as backdrop to the Warner Brothers Hollywood Blockbuster set for 2015, Batman Versus Superman: Dawn of Justice. Having a big time movie crew in town created quite a buzz, especially when Ben Affleck, aka Batman, made a stop out to MSU Football practice.
5. Its always a good sign when you see cranes in the sky and shovels in the ground. This was the case in Lansing's downtown as big-time renovations began on the home of the Lansing Lugnuts, Cooley Law School Stadium. While this was exciting to see in 2014, the real fun begins in 2015 when we get to experience the updated park. As awesome as a game here has always been, things are getting better, wait and see.
6. After being closed up for about ever the Knapp's Building re-opened downtown. Lots of different uses are lined up for the iconic art deco retail structure but one of the cooler ones is as a fashion incubator called the Runway. Check it out!
7. Impression 5 Science Center broke out the wrecking ball and made some big time changes to everyones favorite Greater Lansing museum. They will have a new entrance, a lot more light and a lot more space for fun, learning and exploration for the whole family. Totally worth checking out in 2015.
8. A brand new event for Greater Lansing was born with the Grand American Fish Rodeo. This celebration of the river that winds its way through our downtown brought fun-seekers and true blue anglers to the area for a few days of all things fish. It was a lot of fun and the future is bright for growth of the event. Grab your worms and head to Greater Lansing June 12-13th for the events second big year.
9. Springtime last year brought with it the return of March Magic Hoopfest, the annual celebration of all things basketball and what a blast. We packed Jenison Field House with hoop enthusiasts and challenged them to do their best dunk, drive, shot and slam. We also were witness to the birth of Hoopie, Hoopfest's fun and friendly mascot. Held in conjunction with the MHSAA Boys State Basketball tournament this event is a hands-on fan fest that is just pure fun. Come back to enjoy it this Spring March 26 to 28.
10. A trend that is sweeping the nation made its way to the Greater Lansing area, specifically the Falcon Golf Club, with foot golf. This sport takes ones love for soccer, and perhaps frustration with traditional golf, and gets you on the course for a sport thats a pure kick. Instead of hitting a golf ball you kick a soccer ball. Its a blast and you've got to see it to believe it. Its cheaper than golf, plays fast and you dont have to be an expert to have a ton of fun.
That's a wrap - and as fun as 2014 was, 2015 is set to be even better. Why? Because we get to see and enjoy the new hotels, the I5 renovation and the big changes at Cooley Law School Stadium. What else? How about more Common Ground, more East Lansing Art Fest, more Folk Fest, great Spartan sports and on and on and on. I'm proud of Greater Lansing and ready to enjoy 2015 - How about you?