Is there anything you love so much you feel like you're waiting around all year for it? Maybe Christmas, or your birthday or summer vacation? Well Hoopie knows how you feel. No he's not that big on the holiday season. No, he doesn't really like summer vacation. He's not a student and actually, he prefers Spring. March to be exact. Why? Because he loves basketball and March is when basketball goes from good to great.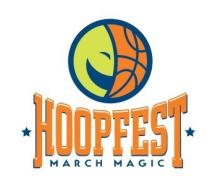 Of course college basketball is heating up but don't forget about awesome statewide prep basketball. That's what Hoopie likes best of all! When the MHSAA State basketball tournament is going on over at the Breslin Center, Hoopie is all about March Magic Hoopfest! That's the fan fest that's going on across the street at Jenison Field House, and that's where you get to get into the game! Shoot free-throws, three-pointers, dunk, dribble, pass and play your heart out! Want to have a bigger role than just coming to play? The event is still seeking volunteers to help make the event go smoothly. Rebound for people, run a score table, keep an eye on kids in the Kids Zone - there are a lot of fun and rewarding ways to chip in and help out. You can work right alongside Hoopie!

It's just $2 to get in or FREE with your 2017 MHSAA tournament ticket stub. If you've been before, you know you love Hoopfest - but nothing like Hoopie. He sits around waiting all year for it! Watch this video and see what happened when we told him the event was coming up!