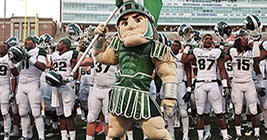 When you're at the top of your game, things never seem to slow down. That's for sure the case with MSU Athletics these days as we have just come off a thrilling Final Four run by the Spartan Basketball Team and now we're set to be treated to the Annual Spring Game by the 2015 Cotton Bowl Champion Spartan Football Team. This Saturday at Spartan Stadium (FREE of course) Coach Dantonio has challenged Spartan Nation to represent with attendance 50,000 strong! Think we can hit that number? We'll need you and yours to make this lofty goal happen!
The spring game is Green versus White and its all about tuning up, sharpening our skills; giving the fans a glimpse of what's in store for the upcoming year. It's a football appetizer, if you will - Spartan Style. Coach Dantonio wants the Spring Football game to become a high-energy fan-fest just like Midnight Madness is for basketball. It's the trend amongst top football programs across the country, so its in our battle plan now too, as one of that top ranking number.
Dantonio's hopes for 50,000 in attendance is a big goal after an estimated 35,000 showed up a year ago and it would for sure be a vast increase from MSU spring games pre-Dantonio and early in his tenure, but it would still put MSU behind several Big Ten spring games this year in terms of attendance Ohio State (99,391), Nebraska (76,881) and Penn State (68,000) are the top three in the nation so far according to SBNation.com. If those Big Ten teams can get Spring Game numbers like that, you KNOW the Green and White can rock 50,000 - especially after the last few amazing seasons we've had, posting a two-year record of 24-3.
If MSU were to reach 50,000, it would rank No. 7 nationally and No. 5 in the Big Ten, behind Michigan's 60,000. And if it were to match last year's attendance, it would rank No. 9 nationally Missouri comes in No. 10 right now, per the SBnation.com figures, at 30,117.
Saturday's festivities, which include free parking, will start with the annual clinic for kids aged 8-12 at the practice field across Shaw Lane from the stadium. The clinic, which drew a record 1,200 kids last year, will run from 10-11:30 a.m.
At halftime, MSU will honor the eight players who earned All-America first-team honors in Dantonio's tenure Javon Ringer, Greg Jones, Jerel Worthy, Le'Veon Bell, Darqueze Dennard, Mike Sadler, Kurtis Drummond and current center Jack Allen and MSU basketball seniors Branden Dawson and Travis Trice will be honorary captains for the game. Get ready also for an incredible Spartan Football PUMP-UP video showing numerous highlights from last year to get your green blood boiling.
Its a tradition thats growing and building every year, just like the success of Spartan Football. Come show your pride and your colors. Green and White! Its your chance to be a part of the growth and dominance of Spartan Football! See you at the game!