Get excited people because we're getting very close to the return of a very special local event - Be A Tourist In Your Own Town! This awesome local event, now in its 20th great year, opens the door to nearly 70 area attractions and hot spots for just the cost of your $1 passport? What better way to get to know all the fantastic things located in and around Greater Lansing?!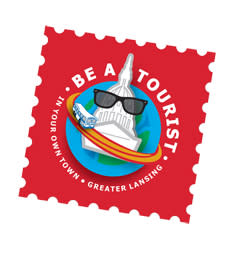 Because the event is May 31st, from 10 a.m. to 5 p.m. we have some time for you to plan out your day and I'm going to help you. Throughout the month of May, up to the date of the event, the Blogs on this site and our sister site LansingSports.org are going to be filled with blogs focused on Be A Tourist and full of suggestions on how you can best enjoy the day.
My theme for this blog is Be A Tourist stops for people interested in family sports and activities. Yup, all the family friendly sports related things you can do for $1 per person on May 31st! It's crazy when you think about it. Grab your kids or your friends or whomever, buy your passport and go nuts on these awesome fun things!
ALIVE: Your Community Well-Being Place! Explore a 36-foot tree house, rock wall-climbing, Zumba, volleyball, dodgeball and more!
City Limits Bowling Center One free game of bowling with passport, and they throw in the shoe rental for free!
Edru Skate Free roller skating with your passport! If you're terrible stick around for lessons at 2 p.m. and 4 p.m.
FunTyme Adventure Parks One free game of mini golf - check out Lansing's East or West locations!
Just B Yoga Free 30-minute yoga class, tour the garden, children's activities and even yoga with your dog! Ohmmm!
Demmer Shooting Sports Education & Training Center Tour this 24,000 square foot state-of-the-art center for archery and rifle shooting. Gotta pay a few bucks to shoot.
MSU Bikes Service Center Free one hour bike rental, or have a busted bike? These are great guys to fix it! Free basic bike maintenance today only!
Lansing Sailing Club Feeling adventurous? Get out on a sail boat with the Lansing Sailing Club. Weather permitting.
Modern Skate & Surf This is the place to go for gear. Design your own skateboard deck and make some fun stuff too!
Royal Scot Golf & Bowl Not done bowling? Good! Bowl up to 2 games free with free shoe rental!
Zap Zone Lansing This one is awesome. Show your passport for 8 free tokens and BOGO Laser tag or glow golf!
So to sum up - this is a lot, right? But it isnt everything. Just the family sports stuff I pulled out. Heck, I didn't even get into parks and gardens and awesome open green spaces and play areas! There are over 60 or so OTHER Greater Lansing attractions and hot spots making something fun happen on May 31st for Be A Tourist - Get out and have fun for just a buck? Yup - It CAN be done!