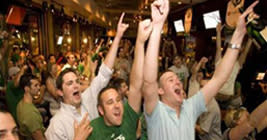 Some sports events are just too big to watch in the man cave. As great as your personal sports den might be, there is something lame about your team getting a big time dunk, you cheer and look over to see your wife knitting a scarf and your sons playing hand-held video games. Games that are big are more fun when everyone is into it! Watching every play with baited-breath, booing every bad call and high-fiving (and maybe ordering a round of drinks) with every electrifying slam dunk. Yes, the start of the NCAA Men's College Basketball Tournament is just too big a sports event to watch in your man cave. Because I think you know this, and because I know Greater Lansing, I'm going to give you my top 5 recommendations for watching the NCAA tournament games in Greater Lansing. These are in no particular order, mind you, just five hot spots. Heck, check them all out if you can!
5 - Crunchy's -- This classic college bar is small, intimate and gets rowdy and exciting when sports are on the TV. Especially our beloved Spartans. They have great burgers and sandwiches and stuff, as well as a bunch of unique craft beers. Bring a group of 4 or more and get a bucket (yes, literally a bucket) of beer, a campus tradition.
4 - Harrison Roadhouse -- Here's another campus staple. Both the Harrison Roadhouse and the Harrison Pub (a smaller pub out behind the Road House) are both in play here. These places as a great spot to watch a game is no secret, so be prepared to stand, maybe for the whole game, even as you eat your loaded chili cheese fries. Trust me though, you won't mind, when the games are good enough, sitting just feels to passive.
3 - Buffalo Wild Wings -- BW3, or B-Dub's is a really great place to watch the big game. TV's everywhere you look and a crowd that is sure to be into it, really watching the game, not talking about relationships or politics while the game is on in the background. I'm a big wing fan so the menu suits me, but they also have burgers and traditional pub fare.
2 - The Nuthouse -- This is a go-to sports bar in Lansing, plain and simple. If there is a big game, people come here to watch it. The bar is big so there are plenty of seats, and I think the service here is awesome. For some reason I tend to associate the Nuthouse with big Red Wing Hockey games of the late '90's and early 2000's, but its good for everything. Set downtown, just steps from about 10 other cool bars, you're all set to do a mini-pub crawl when you're all excited after a big win from your favorite team. My advice? Get to the Nuthouse and basically camp out for the next few days of NCAA tournament action.
1 - The Spartan Hall of Fame Cafe -- The Hall of Fame is a fantastic place to watch a big game, for a ton of reasons. As a Spartan fan, the environment is heavenly, of course. Everywhere you look are reminders of Spartan dominance. The next big thing here is the service and food. Both awesome. Upscale dining options and literally the coldest draft beer in town make this restaurant one of my all time favorites. As far as seeing the game, fear not! There are more TV's in this establishment than almost anywhere in town.
So there it is, my local recommendations for catching the NCAA tournament games, because these are just too fun to watch alone at home under a blanket. Get out and have some fun because in my opinion, this is the most fun sports can bring all year long. Looking for recommendations on who will make the Final Four? Ha! Yeah right, you're on your own!