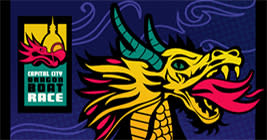 Capital City Dragon Boat Races September 13th and 14th, 2014 - Adado Riverfront Park
If you're looking for something fun to do this weekend in Greater Lansing I highly suggest you get down to Adado Riverfront Park for the Capital City Dragon Boat Races. Lansing's awesome riverfront area plays host to this unique high-energy event and its a festival of sights sounds and activity you won't soon forget. Not sure what a dragon boat race is? Let me bring you up to speed. Teams climb into an ornately decorated boats (picture a shrunken down Viking ship with dozens of oars sticking out the sides and everyone working in unison to drive the vessel ever-forward) lined up like strange and colorful candy in the Grand River. Set to the pace of a steadily beating drum, the team paddles forward and races other boats toward the finish line and a flag hanging, which a team member, stretched out crazily at the front of the boat, grabs for as quickly as they get into reach. It's a team experience like no other and its really something cool to see. Races begin in earnest at 8:30 a.m. on Sunday, but you can also watch teams practice on Saturday the 13th (that will be going on from 10:30 a.m. to 5 p.m.) because that will give you an idea of how difficult the event is for the participants and how exciting it is for spectators. There will be all kinds of activities going on along with the races as well. The Vendor Village & Panda Playland kids activities will be open in East Adado Park, continuing throughout the day, including performances provided by various Confucius Institutes here in Michigan. Its the 10-year anniversary of the Confucius Institute here in Michigan, and they are using CCDBR as their big public celebration, bringing Chinese culture from the four CIs here in Michigan MSU, U of M, Wayne State, and Western Michigan. As well as being an all-around cool thing to see, the Capital City Dragon Boat Race in Greater Lansing benefits the Women's Center of Greater Lansing, so there is a very worthy cause that will benefit by your attendance and the growing success of the event. Races, play areas for kids, music and food trucks will be all over, making it an easy day to explore new and fun things and treat your senses to a bold blast of life in general.
For more information check out the Capital City Dragon Boat website.