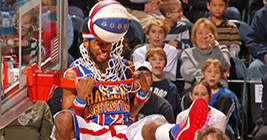 If you're a sports fan, this time of year is about basketball. We've got high school basketball and college basketball (Go Green) and of course the pros battling on the court every night, and this is all fun. But how about something a little different? How about some entertainment basketball? What's entertainment basketball? That's high-flying dunks, mind-bending ball-handling, on-court pranks, players jawing with the refs, colorful silly mascots and big time jokes. I'm talking of the time honored tradition of basketball fun brought by the Harlem Globetrotters. Have you ever seen them? It's a blast.
The iconic Harlem Globetrotters are coming to the Breslin Center in East Lansing on Friday, January 23rd with their unrivaled family-friendly show, featuring some of the greatest athletes on the planet. With incredible ball handling wizardry, amazing rim-rattling dunks and trick shots, side-splitting comedy and unequaled on-court fan interaction, this must-see event is guaranteed to entertain the whole family creating memories that will last a lifetime.
Also the word on the street is the Globetrotters will face a great challenge this year, as the infamous Washington Generals are more determined than ever to beat the Globetrotters. No, they haven't had a lot of success in the past, but they're ready to get a win in the Breslin Center. The Generals, the last team to beat the Globetrotters, are now coached by a former member of that 1971 team. They are on a mission and will do whatever it takes to win, with a new strategy thats sure to give the Globetrotters a run for their money.
Have some fun this Friday night and get to Lansing for not just more basketball, but real, full-blown ENTERTAINMENT BASKETBALL. Its the legendary Harlem Globetrotters, right here in East Lansing. Get the family together and come have some fun.
Harlem Globetrotters 2015 World Tour
January 23, 2015 Venue: Breslin Student Events Center Address: 534 Birch Rd., East Lansing, MI 48824 Times: 7:30 PM Admission: Tickets from $21.50 Contact: Breslin Center 517-432-1989