Well summer weather is here and a lot of people are starting to think about golf - but not everybody. It's been my experience that even though just about everybody, adults anyway, know about golf and its role as accepted adult recreation, not everyone loves it. In fact, just like how there are video game people and then there are pinball people and very few people are both, there are really two types of people when it comes to golf - lovers or haters. There are absolutely arguments for both sides there in my opinion; its a fun sport, but for sure not for everybody. Well I'd like to shed some light on a version of golf that I think might appeal to those that are not fans of traditional golf, but will still give them exposure to the things that are inarguably upsides of golf, which are being outside in the woods in the summer weather with friends and having a little friendly competition. Welcome to the world of Frisbee Golf!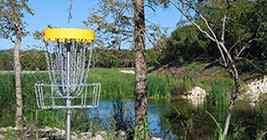 It's a super fun sport and there is no clubs or balls involved whatsoever! How do you even call it golf then, your traditional golf purist may ask - well, just picture your Frisbee as your ball and your arm as the club as you attempt to toss your Frisbee as close as you can to a set target with as few of tosses as possible. Yes, no clubs, but low score wins, just like golf. Unlike golf however, it doesn't take all day, there isn't a bunch of stuffy rules expensive equipment and clothes and, once you have your Frisbee, playing disk golf is free. It also just so happens that the Greater Lansing area is a solid location for this fun and up-and-coming sport! We've got both local courses and even a few specialty shops for you to buy the right kind of Frisbee and talk over the essentials of the sport and its laid-back culture with the knowledgeable employees. There are a few places in East Lansing to check out for disk golf stuff, but the long-time staple is In-Flight Sports on Grand River. As far as local courses, you're in luck because the area boasts some good ones. Click the individual names to go their respective websites but all of these courses located in the Tri-County region received high marks from disc golf rating site: www.dgcoursereview.com. Around here we boast these awesome disc golf options:
Granger Meadows Park/Valley Farms Park Burchfield Park, Holt Grand Woods Park Sleepy Hollow State Park Rayner Park, Mason
Check them out and this summer traditional golf lovers AND golf haters can tee off in a whole new way!