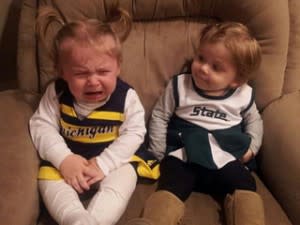 What an awesome time for sports if you are a Michigan State University fan. And who isn't these days? Spartan Football has the Big Ten Conference by the horns and is doing the required leg work to line itself up for the Big Ten Championship game and even more beyond that. Bowling through competition MSU is making a stronger and stronger case to make the top four teams in the nation for the new format, 4-team playoff for National Champion.
Then just a few weeks down the road you have the return of Spartan Men's basketball kicking off with an amazing night at the Breslin Center for Midnight Madness. While losing a few key players from last year to the NBA, you know Tom Izzo will have current players and new recruits tuned up and ready to make another deep run into the brackets come March.
Add to that the fun and excitement of Spartan Hockey, Women's Basketball and more and you're talking about pure Spartan glory. I mean it. This is some of the best time to be a Spartan in the last 50 years. Spartan Football and Basketball feeding at the top of the conference and all rock solid coaches aligned with a supportive Athletic Director has created a culture of pride, continued tradition and winning.
This is truly an incredible time for the Spartan Nation. What does that mean for you? Get into it! Visit the MSU athletics website and make plans to get your butt in a seat at the Breslin Center or Spartan Stadium. I mean it! Sure you can cheer the Spartans from the comfort of your own home, or at a local pub but nothing, and I mean nothing, compares to the thrill and excitement of the live Spartan experience. Clear your schedule and prepare for a Spartan sports season for the record books!