It's always special to be on the campus of Michigan State University, but during homecoming...well...special turns into amazing.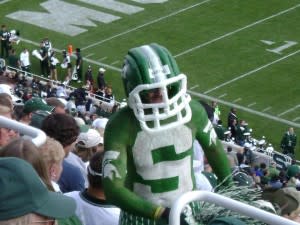 As Michigan State University celebrates Homecoming Week September 22-27, 2014 the theme is how "Spartans Make Headlines". MSU has a strong history of record-setting events and memorable alumni, so this weekend celebrate all things Spartan and jump with two feet into the glory of MSU history.
The 2014 Grand Marshal, MSU alumna Jemele Hill '97, is no stranger to headlines. Along with Michael Smith, Hill co-hosts ESPN2's hot new show, Numbers Never Lie. In addition to their hosting duties on Numbers Never Lie, Hill and Smith also co-host the ESPN Audio podcast His & Hers with Michael Smith and Jemele Hill. Jemele joined ESPN in November 2006 as a national columnist on ESPN.com and has made regular appearances on television, including SportsCenter, ESPN First Take, Jim Rome is Burning, and Outside the Lines. While at MSU, Jemele was a regular columnist for The State News. She received a degree in journalism from MSU's College of Communication Arts and Sciences.
There are so many events going on this weekend that you really should check out the special website dedicated to Homecoming 2014, but just to whet your appetite get ready to enjoy free Dairy Store Ice Cream at the Rock, the Homecoming Parade (Friday at 6 pm), various tailgates sponsored by the different MSU colleges (register online to attend) and of course, the classic Homecoming Football game as the Spartans take on the Wyoming Cowboys. The parade is Friday night and its always really cool. High energy and creative ingenuity are the human themes at work and whether you are Spartan alum or just a fan, you'll be beaming with pride to see so many dedicated cogs of the University showcasing their talents. Watch for Tom Izzo and the Spartan Basketball team! And Zeke the Wonder Dog! Maybe Mom's old Sorority or Dad's old Frat? And so many more. Go here to find out the parade route and get a spot early for the action.
Obviously the game is at noon on Saturday at beloved (and recently renovated) Spartan Stadium. If you have tickets, cheer as loud as you can, and if you don't - take the opportunity to check out one of the many awesome spots on campus to catch the game. Here's a list of area bars and pubs, pick a favorite from the old days when you went to State, or something brand new.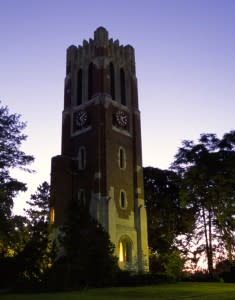 Homecoming at Michigan State is an awesome time to reconnect with friends and visit cherished places from your college days. Take some time to stroll around campus, tell old stories, browse the shops, update your Spartan gear and feel the rush of pride that comes with holding a degree from this awesome institution. Big time Spartan fan that bleeds green or someone you love an Alum? This is also for you! This week MSU opens its arms and welcomes all fans and alum to come back home for a time to remember. Bring your Spartan Spirit and GO GREEN!