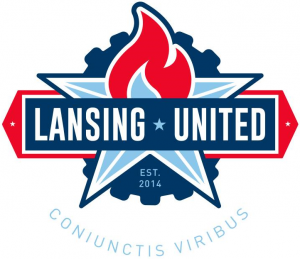 If you don't know, you certainly should by now - Greater Lansing has a team in the National Premier Soccer League. Not only is this a cool addition to the sports scene in the Capital City, this team has started off with a bang!
In September 2013, team President/CEO Jeremy Sampson submitted an application for a National Premier Soccer League (NPSL) expansion franchise and was approved by the current owners at the time of teams within the Great Lakes West Conference of the Midwest Region.
From there, the community submitted names for the new franchise and Lansing United was chosen.
The club adopted the motto Pride, Passion and Unity and those values can be seen in the logo, with the star representing pride, the flame representing passion, and the gear representing unity.
The franchise also selected the Latin phrase Coniunctis Viribus which means With Connected Strength.
Ultimately, United is driven by one mission: to grow the game of soccer in the mid Michigan area. We hope to provide an inexpensive form of entertainment for sports fans to enjoy each summer.
Lansing United played its inaugural season in the National Premier Soccer League and finished the regular season with an 8-4-2 (W-D-L) record and a Great Lakes West championship.
United hosted the NPSLs Midwest Region Playoffs and advanced to the four-team tournament final after a 4-1 victory over the Minnesota United Reserves. In the Midwest Region finals, United netted a 111th minute goal against the Fort Pitt Regiment to brake a 1-1 tie and ultimately take the Region championship and the ticket to the semifinals of the NPSL National Playoffs.
As one of four teams left in the country, United traveled to New Jersey to battle the New York Red Bulls U-23, in which Uniteds dream season came to an end in a 2-0 defeat.
The team plays its games at the East Lansing Soccer complex and they are a ton of fun to see. Do you have young soccer players in your family? Come show then how the pros play! Visit the website, get the schedule and become a fan. We are Lansing United!