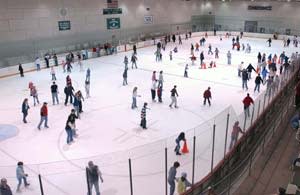 We've got lots of winter left folks, so why not have some fun with it. There are a few fun things you can do with the temp below freezing and lucky for anyone around the Greater Lansing area, one of them is ice skating. Now, whether you are slicing across the ice like an NHL super star or you're tottering along clinging to the boards and trying to stay out of peoples way, putting on the blades and jumping on the ice is a lot of fun. Its a way of saying, "hey cold, you may be trying to freeze me out, but I'm going to use you to have some fun!"
While the ice in the area is always busy, with hockey leagues and figure skating practice and even the bruising and lumbering Michigan State Spartan hockey team, there are also opportunities to find some open ice time and come in for some fun. Maybe a date with your significant other or bring out the kids, either way, its great to skate. Check out the things to do section of this site, or get specific by going to our cool ice partners, The Summit Sports and Ice Complex, Suburban Ice East Lansing and Munn Arena.
You know its been a while! Tie a pillow to your backside and hit the ice, its a cool blast!