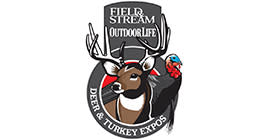 Hey hunting enthusiasts, its time to get to the Greater Lansing area for the Deer and Turkey Expo being held at the Summit Sports and Ice Complex on Davis Highway in Dimondale.
The event is stocked full of exhibits, contests, displays and hands-on access to all the latest and greatest gear and hunting weaponry. Come shoot rifles and bows to "try before you buy!" Watch demonstrations of world famous archery trick shot artist Byron Ferguson. Byron has given shooting performances in Europe, South America, Japan and all over North America. You've probably seen him on Extreme Shots television. He once was asked to put an arrow through the finger band of a $17,000 ring - and nailed it! Byron's also shot more than 250 whitetail deer and many other big game species, birds and rough fish.
Ask the experts all the hunting questions you want, and they'll do their best to help you out. Learn how to carve wood with a chainsaw! Home defense demonstrations! Learn how to find and even make arrowheads! Check out great big game trophies, amazing outdoor photography and more. Door prizes and contests of all kinds await you. If you're into hunting and the outdoors this expo is your dream come true. Come check it out! Need some extra incentive? Okay, twist our arm - here is a coupon to knock some money off the entrance fee!