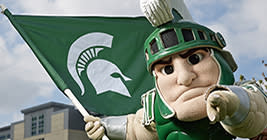 Its easy to be a Michigan state Sports fan these days. Both Spartan football and Spartan Men's Basketball are at the top of the national charts and we in the Greater Lansing area are treated to some incredible home games. While we are not always lucky enough to see these games live, I strongly urge you to get out from your easy chair, or man cave at home and see a game live! Spartan athletics has made it easy for folks to get tickets even to the hottest games by partnering with ticketing agent Stub Hub.
The official website of Spartan Athletics says: Michigan State Athletics is proud to partner with StubHub, the 'Official Fan to Fan Ticket Marketplace' of the Michigan State Spartans. This exciting partnership with StubHub allows you more freedom in pricing, number of ticket listings and lets you reach more ticket buyers than ever before.
Now what does that mean? You can go to the website and buy and sell tickets for various sports and based on your budget and ticket availability you can get great tickets to some of the best Spartan sports action around. Based on how hot the game is, you can either get tickets that are more expensive because its a big time game, or you can take in a game, for a fraction of the normal ticket price if the game is less of a hot ticket. A game like this is perfect if you have a young Spartan fan in your life who loves the action and buzz of a live game, but doesnt have the lasting power to stay the whole game. Sound familiar? For this reason, a game against a weaker foe or when the students are gone, is a good option.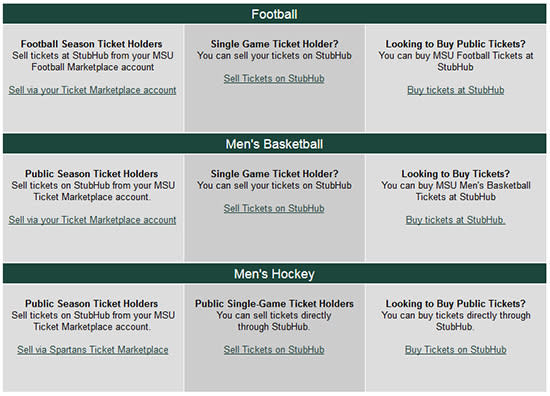 A slight hurdle of attending a Spartan game live is the matter of parking. Depending on what sport you're looking to attend, the Spartan athletics website has a lot of parking information but I'll give you a little inside scoop. For basketball a good bet is the ramp at the Kellogg hotel and Conference Center. If you're okay to be an early bird, its also nice to park in one of the ramps downtown east Lansing, grab a bite and a drink at one of the local area pubs and then walk to the Breslin from there. Football is a more difficult matter because you've got far more people and tailgating in play. If you dont have a parking pass try the downtown Lansing ramps or Munn Field.