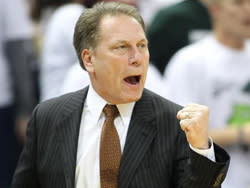 Hey Spartan Basketball Fans! We're facing an interesting time of year. Right now we're at the portion of the Spartan hoop schedule where they're working out the kinks in the system against some weaker non-conference foes and we've got a nice home stand coming into view here over December 6th to the 20th. What a perfect time for you to get out of your chair at home and go see the excitement of a live game at the Breslin! I know it can be hard to get tickets when the big time/Big Ten foes come to East Lansing for a game but prime seats still remain for these games against smaller schools with a big axe to grind against the best college basketball team around. Get your kids, or your college buddies, and go out for a pop/beer and a burger and then head over to the house Tom Izzo built (aka the Breslin Center) for a game where you know you won't have to nibble your fingernails down to the quick. i know for me, I LOVE to see the Spartans sharpen their swords against a lesser foe. Pound Green Pound baby! The next couple of weeks shape out like this:
Arkansas-Pine Bluff - 12/6 Oakland U - 12/14 Eastern Michigan - 12/17 Texas Southern - 12/20
You know you can make at least one of these home games work! Got a young child just getting into basketball? Treat them to a Big Ten game and watch their smile grow as fast as the Spartan lead. Havent seen your old college buddies in a while? Get off the couch, pick up some tickets and treat them to a walk down memory lane! Shoot, maybe your wife or girlfriend went to Oakland, or Arkansas-Pine Bluff! Come watch her Alma Mater get stomped, Spartan Style! Get to a Spartan Basketball game this December, its pure Green and White Glory and puts watching the game on TV to shame.