Yes, you heard right, the 19th annual Be A Tourist In Your Own Town event is on its way back again this June 1st, from 10 a.m. to 5 p.m. Now you know this is a great local event, all about finding the treasures right underneath your nose that you never knew about, or never had time to check out - all for just the cost of a dollar passport and 50 cents transportation to CATA. You probably also know that the $1 passports are on sale now at a bunch of places throughout the community, but the easiest spots are the Visitor Center downtown Lansing at 500 East Michigan Avenue, or the new East Lansing Visitor Center at 549 East Grand River.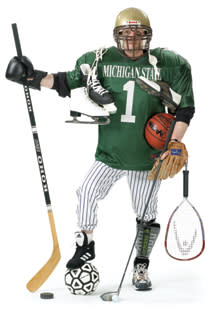 What I'm betting you don't know however, is all the great sports and athletic themed stops there are to this years event! You read this blog because you like sports, right?! Sports of all kinds?! Well then you for sure don't want to miss the upcoming Be A Tourist event! Check it out, in this years passport you can play at all the following places and even get a ride there for a total of $1.50!
Burchfield Park - Run off some steam at this local gem. Even take a half hour paddle boat ride for free!
Edru Skate-A-Rama - FREE Roller-skating with your passport and laser tag for just $6!
Greater Lansing Sports Hall of Fame - Have you checked this out yet? It's in the Lansing Center and its really impressive. I know you know Magic is from here, but how about the 100 or so others?
Lansing Lugnuts/Cooley Stadium - Lugnuts are away so we get to take over the field! Behind the scenes tours you won't want to miss!
MSU Bikes/Service Center - I have ALWAYS wanted to go to this place and this year is my year! Should be yours too! Free bike rentals and find out about a great local place to get your bike fixed!
Demmer Shooting Center - This place is literally state-of-the-art! From bows to rifles and hand-guns this is the place to either play William Tell or Dirty Harry. Think you can handle it? Well do ya... punk?! (That was my Dirty Harry impression. Not bad, says I...)
Lansing Sailing Club - We are really lucky to have this awesome club in the kick-butt neighboring community of Haslett. Hop onto a sailboat and cruise Lake Lansing - for FREE.
Modern Skate and Surf - This place is a Lansing/East Lansing staple. See what's new in the skate world, design your own board graphic and enter it to win a contest. Even sip a free Gatorade while you work on your design. Radical!
Suburban Ice - This, my friends, is one of the best sports facilities in town, plain and simple. Check it out on the day of Be A Tourist for free open Ice Skating all day!
So all of that is at your fingertips on the day of this awesome local event! How awesome. Think it ends there, though? Of course not! This is Lansing, where sports never sleep. The very next day, June 2nd, is the Hawk Island Triathlon! You KNOW that's going to be bananas. So, hey, sports fans? Get ready for every game, playing surface and physical challenge you can handle on June 1st (and Hawk I Tri on June 2nd), right here in Greater Lansing!