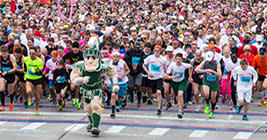 Greater Lansing is a big time sports community and when summer hits, so do the running shoes on the pavement. Yes indeed, tons of road races. I'm talking about event after event of road races of varying lengths and themes suited for folks of all fitness levels. Not from Greater Lansing but a fan of the GLSA blog? Or maybe you got here through social media? Well check your schedule and get yourself booked for one or more of these amazing races scheduled for this summer! Between Lansing itself and the many surrounding communities you're sure to find something thats just right. Or maybe you're a total road warrior and you're already registered for a few of these? Well why not challenge yourself to go a bit further...and take on the entire list? Unless...you can't handle it... (That's me challenging your manhood/womanhood). Anyway, summer is road race season in Greater Lansing. Grab your running shoes, stretch your legs and hop onto the road - it's time for a new personal best!
2014 GREATER LANSING RACE SERIES
Saturday, March 22 - Run for the House 5K - Okemos (Delta Dental) Sunday, April 13 - Race for the Place 5K - East Lansing Sunday, April 27 - Komen Race for the Cure 5K - Lansing Friday, May 2 - Mason State Bank 5K - Mason Friday, June 20 - Capitol National 5K - Lansing Saturday, June 28 - Max's Race 5K - East Lansing Saturday, July 12th Lansing Color Run - Lansing Sunday, July 27 - Ele's Race 5K - Okemos Saturday, August 2 - Mint City 10 Mile - St. Johns Saturday, August 2nd Insane Inflatable 5k at Red Cedar Golf Course - Lansing Sunday, September 7 - Kellie Sebrell XC Classic 5K - DeWitt Sunday, September 21 - Capital City River Run Half Marathon - Lansing Sunday, September 28 - Autumn Classic 8K - Haslett Sunday, October 5 - MSUFCU Dinosaur Dash 5K - East Lansing
For more information on area road races check out the website of our awesome local partner Playmakers or the What's Hot section of good old LansingSports.org.