When I was a kid and I was home all day during summer vacation, my Mom would sometimes get tired of me bouncing off the walls, playing video games and eating everything that wasn't nailed down. Sooner or later, at some point she would always say to me (at varying levels of annoyance and frustration), "GO TO THE PARK!" I'd say okay, and off I'd go. I'd hop on my bike or skateboard and head to the park. I always had a couple to choose from that were pretty close to my house. Most of the time I'd go to this one that had a low basketball rim that I could dunk on - a fun feeling for someone who was 5 foot 3. Sometimes though, I'd go to more of a woodsy park and just hang out there for a couple hours.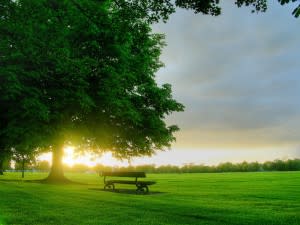 I could always find bike trails, or a cool tree to climb, or something to explore. I'd get lost in my own thoughts and think about things and just be. To this day its this kind of thing that I miss most about being a kid, and having a whole summer vacation to burn. That huge amount of time to just let my brain off leash and take what comes. When you grow up there are so many plans and expectations, things to do and things to be cleaned and bills to pay that sometimes my brain just feels... too full. So busy doing things that need to be done that I don't know who I am, or what I want. Hanging out at the park by myself as a kid was very peaceful, and as I walked in the woods or looked up at the clouds with my fingers laced behind my head lying on the grass, my thoughts and feelings felt clean and organized. It was nice. Maybe that's silly now, considering everyone's apparent taste for highly distractible technology and 24-hour in-your-face media, but it was a happy time for me that I absolutely miss.
I may not have a few hours every day to stroll around the park anymore, but the Greater Lansing area has an absolute wealth of parks, gardens and green spaces for someone to collect their thoughts. I can say first-hand; from time to time anyway, it's an important thing to do. I should thank my mom for helping me facilitate those good memories and peaceful times by telling me to get out of the house for a while so she could vacuum and make dinner and do the crappy adult things I now have to do. Feeling too busy and you can't think straight? Well, in my best Mom voice let me say, <ahem> "GO TO THE PARK!"
You're welcome.