Anyone that reads this blog is in for a real treat this week, as we have a special local guest-blogger, who happens to be a highly-ranked qualifier for the upcoming 2017 Junior Olympic Level 9 Eastern National Gymnastics Championships, set to be held at the Summit Sports and Ice Complex in Dimondale Michigan, April 28-30th.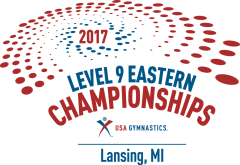 Karly Kim has been competing in gymnastics since she was just 18-months-old, and in just a few days, on her 14th birthday, she'll be competing in the All-Around in a major national gymnastics tournament. It's a journey marked with hard work, friendships, challenges, successes...and then more hard work. Yes, the Eastern National championships are a big stop on Karly's gymnastics journey, but it's far from the destination. This young lady has the skills and the attitude to go a lot further - I'd guess just exactly as far as she wants to go. That's enough intro, let's hear from the star, Karly Kim!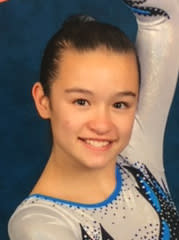 GLSA: How does it feel to qualify for the All-Around competition for your age group in the 2017 Junior Olympic Level 9 Eastern National Gymnastics Championships?
Karly Kim: Qualifying for the All-Around competition for my age group in the 2017 Junior Olympic Level 9 Eastern National Gymnastics Championships feels like a big accomplishment to me. I feel that I've worked very hard this past year to make it to level 9 and compete at this level, so to qualify to nationals as a first-year level 9 makes me feel very proud and excited.
GLSA: Obviously only the best of the best qualify for a tournament like this; How many hours a week do you spend practicing gymnastics?
Karly Kim: During the season (the school year), I spend 4.5 hours a day practicing for 4 days a week, and 5 hours on a 5th day (23.5 hours). During the summer (not during the school year), I spend 5 hours a day practicing for 5 days a week (25 hours).
GLSA: What has been the best part of being so involved with gymnastics?
Karly Kim: I think the best part about being so involved with gymnastics is creating such strong friendships. I don't get to hang out with school friends as much, simply because I just don't have time. I'm always at practice! My teammates are the most hard-working people I know. We go through a lot together, and we understand each other very well. They are my best friends, and we are always very supportive of each other, no matter what. It's easy to get yourself down or to get frustrated at practice, but my teammates always cheer me up and make me feel better.
GLSA: What are your long-term goals for your gymnastics career?
Karly Kim: My long-term goal for my gymnastics career is to get a full ride scholarship to a good school. I hope to go to a school with not only a good gymnastics team, but a good school academically, also. I do especially well in my health and science classes and have a goal for working in the sports medicine field.
GLSA: What is your favorite gymnastics event? Floor? Vault? Beam? Bars? What is your least favorite? Why?
Karly Kim: My favorite gymnastics event is floor because I excel at tumbling, and I love to dance. In fact, my mom and I did the choreography for my current and previous floor routines. My least favorite event is vault because it is the scariest for me. I'm not the best at it, but it also hurts my body the most out of all the events.
Qualifying to nationals means a lot to me, and it's also relieving. I was very nervous for regionals because making it to nationals was really important to me. Regionals was especially nerve-racking because my qualification to nationals was based on that meet, and that meet only. Now that it's over and I have met my goal, I feel extremely happy. Gymnastics means a great deal to me, and it has shaped me into the person I am today. It is full of life lessons, such as determination, perseverance, and giving your full effort. I compete at nationals on my 14th birthday, Friday, April 28th at The Summit. I am super excited that I've made it this far and to have an opportunity like this. I can't wait to do my best, and I'm ready to make this birthday the best one yet!
Join me in saying good luck to this local gymnastics star in the biggest competition of her life! Karly, the GLSA is behind you 100%!!