What kind of day do you want to have on Saturday May 30th? High-energy and fast-paced? Laid-back and lazy? Looking to get your learn on? Or maybe an athletic-infused adventure? Its up to you, because Saturday May 30th is Be A Tourist In Your Own Town, and over 90 attractions and hot spots in the Greater Lansing area will be wide open for you to explore, for just the cost of your $1 Be A Tourist passport. How awesome is that? Pretty awesome, but not as fantastic as the memories you'll have of your special day in Michigan's Capital City.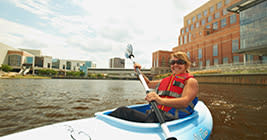 So let's say you decide you want to have an outdoor adventure during Be A Tourist, and everything you do that day is going to surround outdoor sports and antics under the sun. Sounds like a plan. Your amazing day could consist of all of the following:
Burchfield Park in Holt - Go on a free paddle boat ride!
Charlotte Aquatic Center - Head to Charlotte for free outdoor open swim and a pool obstacle course. Parents can test their children's swimming skills with a free Red Cross skill assessment between noon and 2 p.m.
Cooley Gardens - Take a break from sports to stroll through these meticulously kept gardens.
Fenner Nature Center - Celebrate International Migratory Bird Day with special activities inside the visitor center and then explore 134 acres and over 4 miles of groomed trails.
Beal Botanical Garden - Swing over to the most beautiful campus on Earth and find out for yourself while MSU is (among other things) the worlds foremost Agricultural College. While youre in East Lansing, swing by Beaumont Tower and kiss your girlfriend - its good luck.
MSU Forest Akers Golf Course - Stop by this classic MSU course for a free golf lesson for you or your kids. Theyll provide clubs you can use.
MSU 4-H Children's Gardens - Stroll through more than 60 theme areas of these scenic gardens like Alice in Wonderland's maze, or the Secret Garden! Cool stuff.
Lansing Sailing Club - Time to head to Haslett for a free sailboat ride on Lake Lansing!
LCC Sculpture Walk - Buzz back downtown on the CATA bus for the LCC Sculpture walk. All sculptures were created by LCC faculty, alumni or students. While you're on campus check out the Shigematsu Garden, super pretty and relaxing.
Potter Park Zoo - Get some sun and check out the wild animals at Potter Park Zoo. From birds and monkeys to big cats and rhinos, its like a safari, right here in town.
River Town Adventures - This is Lansing's premier kayak and canoe rental source! Experience downtown Lansing from a whole different perspective.
Van Atta's Greenhouse and Flower Shop - This is a real showplace. See all kinds of flowers, cool garden stuff and even some peacocks walking around. Show your passport and get a free perennial plant.
See what I mean? You can have a total outdoor adventure, without even leaving your home town! How many of these things I've mentioned did you not even know existed? I bet a lot. Or if you're an adventure seeker, some of these things I've mentioned are maybe some of your favorite things to do! Well come out May 30th during Be A Tourist In Your Own town and do them. Lansing is a special place, and this is a special Day - perfect for an adventure, just for you.
Get more information about Be A Tourist and pick what kind of day you want to have!