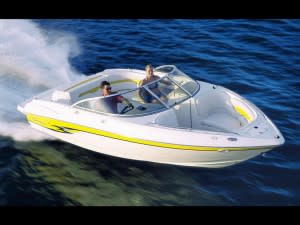 Call me crazy, and many have, but its been a dream of mine for some time to have a boat. I mean it. Every time I've ever been on one, I've had an awesome time, and its been way too long. Live near a lake and my parents have a place on a bigger lake! Makes perfect sense right?! I agree. So why haven't I pulled the trigger and made it happen? Well, they're not cheap, and Ill admit, I'm a little scared. I didnt grow up around boats, so I dont know a lot about them and introducing something expensive into my life that could cause me stress or financial woe is a bit worrisome. Well, you know what Ive decided? Fortune favors the bold and you dont have much fun sitting on the sidelines. I'd rather have some kicks and go down on my ship rather than spend the rest of my life asking, "What could've been..."
Well I'm really fired up for this weekend in Greater Lansing because the Lansing Center is hosting H20-2015! The Lansing Boat Show! Friday February 27 noon to 8 p.m., Saturday February 28, 10 a.m. to 8 p.m. and Sunday March 1st 11 a.m. to 4 p.m.
There are boat dealers from all over showcasing boats of nearly every shape, color, style and price. Thinking about getting a boat? Come get some literature, talk to a friendly sales person and get the plan rolling! I know I'll be there. I've got a lot to learn about being a boat owner, but heck, that's going to be half the fun. By this time next year I'll have a dozen fun stories about me and my family on our boat, and I'll have the Boat Show to thank!
Get to the Lansing Boat show and make YOUR nautical dreams come true.