Homecoming. The time of year where students, alumni, adults, and children all come together for one purpose: to share their Spartan pride. The city of East Lansing bleeds green through the week as fellow Spartans, new comers and visitors rejoice in the Homecoming festivities.This year the theme is, "Uniquely Spartan". Diverse, Collaborative, Bold. Just some of the traits that exhibit their brand. Embrace your inner Spartan and celebrate with your friends and family during this year's Homecoming from October 15-21!
From the banks of the Red Cedar to the lively streets of Grand River; Spartan nation is thriving! It is with great excitement that among the returnees is, Tyler Oakley. An MSU Alum, who has taken over the digital world and truly evokes the presence of a unique Spartan, will be the Grand Marshal in the Homecoming parade.

Bleed Green. Glow Green. Go Green.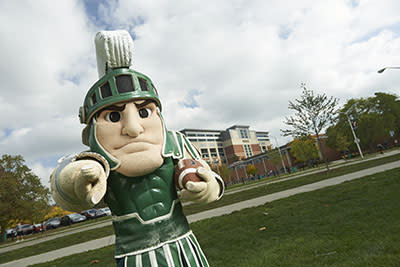 The continuous tradition of, "Glow Green" will take place again this year, calling for all Spartans to switch out their porch or house light bulbs for green ones during Homecoming week. Spartans also can show their spirit by submitting a "Glow Green" photo by using the hashtag #GlowGreen on Facebook, Twitter or Instagram or by filling out a contest entry form on alumni.msu.edu. All submissions will be entered to win one of three prizes.
Following is a list of some of the event highlights for the week. The complete list can be found on homecoming.msu.edu. While you're in town, feel free to enjoy some of the other great activities the Greater Lansing area has to offer by browsing this site. Here are some of the festivities for students, alumni, and families to enjoy!
Homecoming Schedule
Tuesday, October 17
Sounds of Homecoming
6:00 p.m. – 8:00 p.m. | Beaumont Tower (Rain location: MSU Union Ballroom)
Sit back, relax and enjoy a night full of a cappella music from MSU groups while taking in the scenery of Beaumont Tower. Featuring groups State of Fifths, Ladies First, and much more!
Thursday, October 19
Alumni Grand Awards Gala
5:30 p.m. Reception | 6:15 p.m. Dinner & Program | Kellogg Hotel & Conference Center, Big Ten Room
Join the MSU Alumni Association as they honor some MSU's most distinguished alumni. This black-tie optional event includes a reception with hosted bar, decadent meal, and the opportunity to meet and mingle with this year's recipients.
Friday, October 20
Healthy Homecoming Walk
8:00 a.m.-4:00 p.m. | Demonstration Hall Field (near Spartan statue)
Head on down to Dem Hall and participate in a friendly walking competition between Michigan State University and Penn State University, in connection with the Exercise is Medicine on Campus initiative. The challenge will consist of walking laps on the sidewalk around this field (approximately ¼ mile) throughout the day. This event is open to faculty, staff, students, and alumni and no registration is required.
Ice Cream at the Rock
12:00 p.m. - 2:00 p.m. | The Rock on Farm Lane (Rain location: MSU Union)
Come out to the Rock and celebrate the end of Homecoming with free Dairy Store Ice Cream.
MSU Homecoming Parade
6:00 p.m. | Downtown East Lansing and MSU Campus
The Homecoming Parade begins at the Hannah Community Center and travels down Abbot to Grand River into campus at the Farm Lane entrance. The parade features more than 130 entries from student and community groups and MSU departments. New this year, Spartan fans will have the opportunity to win one of five $100 gift cards to the Spartan Bookstore when they vote for the "People's Choice" parade entry via text message. The "People's Choice" winning entry will receive a plaque from the MSU Alumni Association. Registered Student Organizations are eligible to win an additional $500 prize. For more information visit alumni.msu.edu
Saturday, October 21
Green and White Homecoming Brunch
12:00 p.m. – 1:30 p.m. | Kellogg Hotel & Conference Center, Big Ten Room
Join fellow Spartans and special MSU guests at this traditional Homecoming event. Admission is $40 per adult, $15 for children 12 and under, and includes brunch buffet. Special Guests will include: MSU President Lou Anna K. Simon, Head Football Coach Mark Dantonio, Sparty, and many more! For more information, visit the Green and White Brunch Website.
MSU vs. Indiana
3:30/4:00 p.m. Kickoff | Spartan Stadium
The MSU football team and Coach Mark Dantonio will take on the Hoosiers of Indiana University. Half-time will feature the Spartan Marching Band, the 2017 Homecoming Court, Homecoming Grand Marshal, and the MSU Homecoming Parade award winners. For ticket information, call (800) GO-STATE or visit msuspartans.com.

For the latest Homecoming information, visit the official website at alumni.msu.edu. Follow along using #MSUHomecoming.