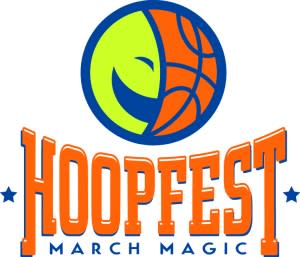 Hey sports fans, specifically basketball junkies, your favorite time of the year has finally arrived. Today, tomorrow and Saturday is March Magic Hoopfest 2012! That's right! While boys basketball teams from across the state battle for the MHSAA State Championship at the Breslin Center, a major hands-on fan fest will be going on just across the street at the Jenison Field House. Admission is just $2 or FREE with your valid 2012 MHSAA Tournament Ticket. What a value, huh?! Just two bucks or your MHSAA tournament ticket gets you in and you can literally play all day. Hours are 2 pm to 7 pm Thursday and Friday and 10 am to 7 pm on Saturday. The Hoopfest event fills Jenison with 8 different basketball-themed skill stations like a three-point shoot out, slam dunk area, rainbow shot, around-the-world and more. There is also a fun kids area with an inflatable to climb on, a bounce house and evenmini-pop-a-shot type baskets perfect for tomorrows stars. If you're going to the MHSAA basketball tournament Hoopfest is a great way to get in on some of the fun of basketball, as a break between games. After all, you've been seeing guys shoot and drive and dribble all day long, you know you're dying to sink a long three yourself, right? If you're not going to the MHSAA tournament games, Hoopfest is a fun, inexpensive family-friendly activity that I bet you'll just love.
Another cool thing at March Magic Hoopfest is the MHSAA Hall of History. If you or anyone you know is a basketball history afficiando they will love seeing the great displays, storiesand moments from great state high school basketball tournaments from the past. If you bring a small child with you to Hoopfest, and you can pull them away from the kids zone, have them grab a coloring sheet and take their best shot at a personal artistic rendering of all the fun that can be had at this great event.
There is so much fun stuff about March Magic Hoopfest you've got to see it for yourself to really understand it, but so that you are totally educated on all the activities (yes, there is more than I have described to you here) visit the website at www.marchmagichoopfest.com. Spring is here and so is one of the best events in Greater Lansing all year. Come have a ball!