It's an exciting time of year, and every sports fan who bleeds green or wears blue is wringing his or her hands in fevered anticipation. It's rivalry week and that means it's MSU versus Michigan on the grid iron. A lot of people are passionate about this rivalry, myself included. So to capture that passion I took pen to paper and crafted this bit of verse which embodies my feelings about this annual turf war - This yearly battle for state supremacy. It's nothing short of my absolute favorite sports contest the whole year long. Who will take home the coveted Paul Bunyan Trophy? Give this a read and think back to your favorite memories of this classic in-state match-up. Are we on the same side in this, or bitter rivals? It's a rivalry that can pit brother versus brother, after all. We'll have to see who will be smiling when the game is decided on Saturday night in Ann Arbor...What's left to say at this point? LET'S GO GREEN! LET'S GO WHITE!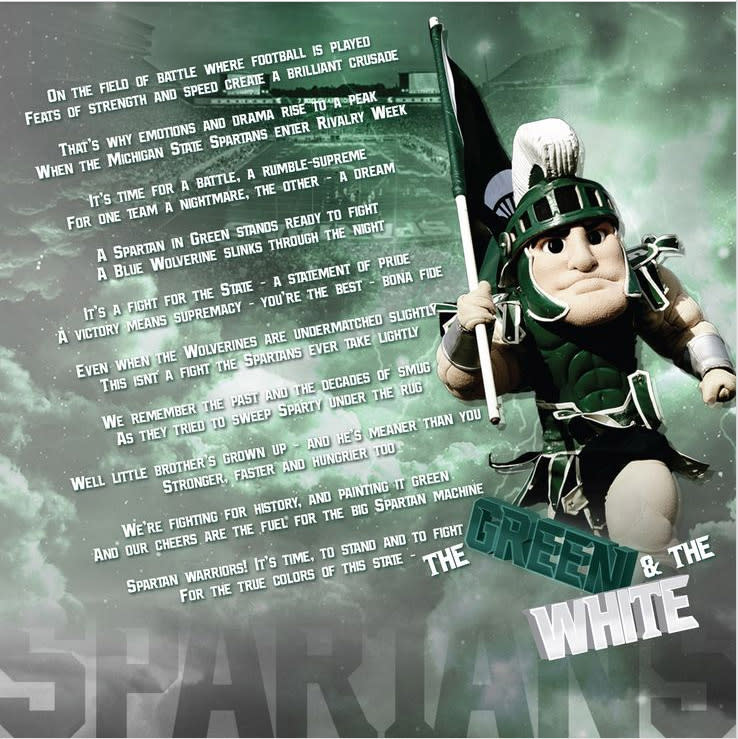 On the field of battle where football is played
Feats of strength and speed create a brilliant crusade
That's why emotions and drama rise to a peak
When the Michigan State Spartans enter rivalry week
It's time for a battle, a rumble supreme
For one team a nightmare, the other - a Dream
A Spartan in Green stands ready to fight
A Blue Wolverine slinks through the night
It's a fight for the State - A Statement of pride
A victory means supremacy - you're the best - Bona Fide
Even when the Wolverines are under-matched slightly
This isn't a fight the Spartans ever take lightly
We remember the past and the decades of smug
As they tried to sweep Sparty under the rug
Well little brother's grown up - and he's meaner than you
Stronger, faster and hungrier too
We're fighting for history and painting it green
And our cheers are the fuel for the big Spartan Machine
Spartan Warriors! It's time, to stand and to fight
For the true colors of this State - the Green and the White!