Unless you're a total stand out athlete, when high school is over, your days of being a part of organized sports are pretty much over. Oh, you may do a little intramural sports in college, and at that time your friends are young enough where it's pretty common to get together a pick-up basketball game or a little football that starts out as touch and becomes tackle right around the Friday after Thanksgiving. But, more and more, as you get older you do more watching sports and far less playing them yourself. Yes, you can get exercise by working out, but lifting weights or busting your butt on the stair master doesn't give you the team camaraderie or the pure thrill that comes with making a goal, hitting a long three-point basket or blowing somebody up in dodge ball.
Retirement? No Way.
Does that mean that you have to be done playing sports? Absolutely not. In great sports communities like Greater Lansing, Michigan there are numerous ways for adults to get into the game. If one is really interested there are everything from volunteer opportunities at sports events to local organizations focused on creating sports leagues and fun athletic opportunities for adults.
Like-Minded and Local
Depending on your community, be sure to look into your local parks and rec department. Often times there are adult sports leagues you can get involved in that are close to home and very affordable. Another local organization that merits consideration if you're missing being part of a team is the Michigan Life Sports and Social Club. This local club offers a bunch of different adult sports leagues and a lot of great opportunities to meet like-minded people. Interested in an adult league for co-ed basketball, corn hole, dodge ball, volleyball, kickball or flag football? Look no further!
Part-Time Superstar
Maybe you want a little less commitment. Like you'd be interested in playing some basketball again, but you don't have the time in your schedule to be in a league and you don't want to be "that guy" that signed up but never comes to the games. I get that. If this is the case you'd do yourself a big favor by joining a local sports/exercise entity like the YMCA, Al!ve Wellness in Charlotte or the Michigan Athletic Club in East Lansing. Make an organization like one of these part of your life and you'll find yourself getting in better shape and having more fun as well.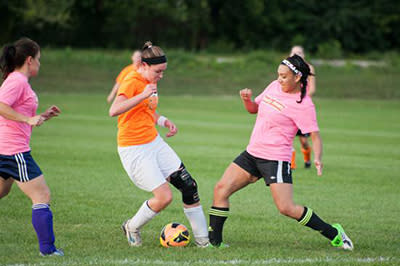 A bunch of other opportunities to get your body moving are readily available in the Greater Lansing area. Get out on the ice at Suburban Ice or the Summit Sports and Ice Complex. Get your kicks at a game at Beacon Soccer Field. Jump into the river and try your oar with River Town Adventures.
Last but not least the GLSA is a great organization to become familiar with if you miss being part of a team because every few weeks we have a new sports related volunteer opportunity. How would you like to rebound at March Magic Hoopfest, or help with registration at the Capital City River Run or any one of the many many other sports volunteer opportunities going on every month around Greater Lansing? It's never too late to get into the game and by living in Greater Lansing Michigan you have no excuses about why you can't play. Get off the couch, dust off your jump shot and play ball.