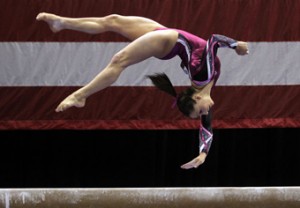 Put in the most general terms Jordyn Marie Wieber (born July 12, 1995) is an artistic gymnast from the USA. She is the 2011 All-Around World Champion, the 2011 U.S. Senior National Champion and the 2011 American Cup Champion. In 2012 she won the AT&T American Cup. She was also the 2008 U.S. Junior National Champion and the 2009 American Cup Champion. In 2012 Wieber won her second U.S. Senior National Championship. She was selected to the national team that will represent the United States at the 2012 Summer Olympics in London.
Now, while those are incredibly impressive accolades, this is not the biggest reason the Greater Lansing community is proud of Jordyn Wieber. We're proud of Jordyn because, as she comes from DeWitt (a small suburb of Greater Lansing), we consider her one of us. What that means is all her hard work, sacrifice and drive to be the best is like a great big light and when she's out there shining, that light finds a way to warm us all. In a few short weeks she goes to London to represent the United States and the very best of all of us. She'll be representing the dozens of other gymnasts that put in long hours at Twistars and dream of someday becoming an Olympic champion. She'll be representing her family and all the sacrifices they have made to give her the tools to master her craft. She'll be representing those of us that love this area but will never have the chance to compete on the world's greatest stage.
The people of DeWitt, the people of Greater Lansing and the staff of the Greater Lansing Sports Authority have been cheering for and promoting Jordyn for a long time and now that the stage is set for her Olympic dreams to come true, those cheers will only grow. Of course its because we want her to bring home Olympic gold, but the real reason? Because she's one of us. And you know what else she represents?All the strength, talent and determination one person can put into a life so short. She has earned this opportunity and as her hometown we couldn't be more proud. One of us? Only on our best day. Go Jo go!