While Michigan is a state known for waterways and river rafting and fun at the lake, Greater Lansing is positioned in such a way that the Great Lakes are a bit of a drive and the bigger inland lakes also require a drive to soak your feet, go tubing, or wet your line in search of huge pan fish. While all that is true, I'd be remiss if I didn't give a shout out, and a friendly reminder about the lake we do have within our community. Lake Lansing, located in Meridan Charter Township and the community of Haslett, is a relatively small 485-acre lake, but don't judge it by its size alone.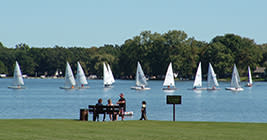 Bustling with both motor and sail boat activity people of all ages can spend the day at Lake Lansing and the large park which surrounds it. Historians will tell you about the days back when there used to be a carousel and a roller coaster on the grounds and people would come from all over for a date, or a day of fun at Lake Lansing. Well, the roller coaster is gone and the carousel too, but what remains is still some of the best picnic, play, swimming, fishing and boating space you can find without leaving Michigan's Capital Region.
As home to the Michigan State University Sailing Club, Lake Lansing has opportunities for lots of fun sailboat, and sailboard action, as well as a place right on the lake shore to go for lessons, if you are thinking of getting into the sport. Lake Lansing has a couple of public boat launches to put pontoon and speed boats into the water as well. There is a large open public area for people to lie in the sun and spread out a blanket for a picnic, right near the public swimming area. The swimming area is roped off to keep swimmers safe from passing water crafts but the area also has a full-time life guard as well. Just beyond this area is another open space that has restrooms, a concession area, paddle boat rentals and more open space so people can throw a Frisbee or a ball around and not disturb anyone. Just a bit past that is a huge climbing structure ad a big wheel race track, fully equipped with a bunch of big wheels, perfect for your 3 to 7-year-old. A scenic wooded area offers in ground charcoal grills, picnic tables and a large covered pavilion that can be reserved for groups large and small.
Just across the street from the public area at Lake Lansing are a few bar & grill type restaurants as well as a party store that sells everything you might expect as well as bait for fishing. No, Lake Lansing is not a huge lake in the middle of the woods. But do you know what it is? Its the biggest public lake near Lansing and its got enough size, amenities and built in perks for even the biggest lake-junkie. Get out to Lake Lansing and enjoy all of the fun of being on the water - minus the drive up north! that's why I call Lake Lansing small but mighty. It's small in size, but MIGHTY big on amenities.