I get a lot of enjoyment out of food. I'll readily admit that. I know a lot of people though, that in an effort to either stay thin or save money, will just eat whatever's around, and don't care a ton about flavor or variety or anything. Um...yeah. I think differently. We go around this world once, as far as I know, so I say be a little nicer to your senses and eat what you really like, at least now and then! Well for me, that's wings. I sometimes crave these spicy little treats like there's no tomorrow and there's no real substitute. Yes, sometimes, wings are the thing, and nothing else will do.
Now, are all wings created equal? What do you think? I already said I have some discerning taste buds, right? Heck yes! You can get fantastic wings and you can get wings that are terrible, just like anything else. The job for you as a wing lover is to find the places that have wings that you like and then be loyal to them. Well, in Greater Lansing, specifically on the campus of Michigan State University, my personal favorite place for wings is Buffalo Wild Wings - BW3's to cool people (and Bee-Dub's to the real insiders). The wings at BW3 are good sized, meaty, cooked the way I like AND you can choose from all kinds of kick-butt sauces. Usually you go to a bar and grill and they either have wings or not, but if they do have them, you can bet the sauce just is what it is and it may not necessarily rock your world. At BW3's you can either go way mild, or all the way up to Blazin', which will have you looking around for a super cold beer in which to soak your lips - and who doesn't want that, right?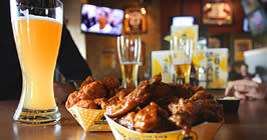 Look, chain places get a bad rap a lot of the time when it comes to exploring new restaurant destinations or even making a choice where to eat in your hometown, but I'm telling you, BW3's is awesome. So yes, they are a chain. You know what I say? Chain me to a table during a MSU football game and keep the wings and beer coming! Thanks BW3's - you are the KINGS of WINGS!