Color Run Brings Great Big Fun!
The Greater Lansing Sports Authority is excited and ready to host a brand new event for the region coming up on July 13th in downtown Lansing with the truly one-of-a-kind, Color Run.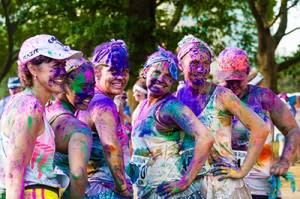 Less about your killer 10-minute-mile and more about having the time of your life, The Color Run is a five-kilometer, un-timed race in which thousands of participants are doused from head to toe in different colors at each kilometer. The fun continues at the Adado Riverfront Park/Common Ground finish line with a gigantic Color Festival, using more colored powder to create happiness and lasting memories, not to mention millions of vivid color combinations. Color Run organizers call this is the best post-5k party on the planet! Registration for the event is completely maxed-out with 15,000 runners so various local merchants are sure to feel the impact from this influx of colorful visitors. For more information on the color run go back to the homepage of lansingsports.org. Even if you're not running this is going to be a really cool event to see, full of eye popping, candy-like colors and people from all over just enjoying the spark that means we are alive. Yes, people at the finish line look a bit like an Easter egg, or maybe employees at a rainbow factory, but thats the fun of it. At the Color Run, the colors inside us that make us fun and different come out for the day. Its the first year for this event in Greater Lansing and its bound to be fun. Come check it out and stay for the Common Ground Music Festival later that night. Sounds like fun!