Its one of those times again where I step aside and let a guest-blogger fill you in on a particular area of interest. Strap your helmet and knee pads on for this one folks, as you hear from the awesome folks with the Lansing Derby Vixens! Take it away!
In early 2010, roller derby in Greater Lansing was nothing more than an idea and a loosely connected group of strangers on a Facebook page. For a few months, the idea of roller derby in Lansing was buzzing. There were many brainstorming meetings and there were a lot of questions that were seemingly unanswerable (Where would we practice? How would we pay for this?). There was also a whole lot of excitement. And while the US and many parts of Michigan were seeing leagues pop up left and right, Lansing was rubbing its collective forehead and asking, Can we make this happen?
Nearly four years later, the answer to that question is a resounding yes. Today, with two full teams comprised of 55 active skaters and over a dozen referees and officials, the Lansing Derby Vixens have quickly become one of the most prominent roller derby leagues in Michigan. In the short time since its creation, the Vixens have not only upheld a commitment to athleticism and competition, they have also maintained a strong focus on the Greater Lansing community, donating well over $20,000 to local charities over the past 3 years, and dedicating countless hours to volunteer efforts each season as well.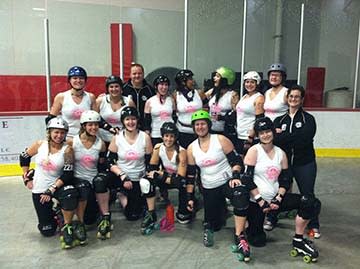 Combining hard work, focus, and persistence, LDV has seen great success in its short lifetime. In 2012, the Vixens Capital Corruption finished with a record of 3 wins and 6 losses, and the All Stars finished with a record of 7 wins and 2 losses throughout the season, playing teams from Michigan, Wisconsin, Ohio, and Indiana last year alone. In addition to this winning record, the All Stars finished the season winning the 2012 Mitten Kitten Mash-Up tournament, an annual statewide tournament featuring top teams from all over Michigan. This title propelled LDV into their 2013 season, which has seen continued success.
In June of this year, LDV hit a significant milestone, qualifying to join the ranks of the Womens Flat Track Derby Association (WFTDA), the international governing body for the sport of womens roller derby. Out of nearly 1,500 roller derby leagues in the world, only 212 of these belong to the WFTDA. The Vixens are humbled to join the best of the best, and being part of this organization will allow LDV to potentially be eligible for national tournaments and championships.
On Saturday, October 19, the Lansing Derby Vixens will be hosting their final game of the 2013 season, a doubleheader at the Lansing Center. The LDV All Stars will be playing the Forest City Derby Girls out of London, Ontario, while the Capital Corruption will play the Smalltown Outlaws from Kalkaska, MI. Both Vixen teams are coming off of the 2013 Mitten Kitten tournament, which featured two divisions this year. The Capital Corruption took third place in the division 2 tournament, and the All Stars placed second overall, losing to Ann Arbors Brawlstars in the championship game.
You can find more about LDV on their website at www.lansingderbyvixens.com, including how to get started as a derby girl, or by following the Lansing Derby Vixens on Facebook at https://www.facebook.com/lansing.derby.girls. Tickets for the October 19 game are $12 until Friday afternoon, and are available online at http://www.etix.com/ticket/online/performanceSearch.jsp?performance_id=1680877. Tickets are also available at the door for $15. Doors open at 5:00 PM and the first game begins at 6:00 PM between the Capital Corruption and the Smalltown Outlaws. We hope to see you there!