While March Magic Hoopfest is still a few weeks away (March 20-22), the time is now to register for fun events at Hoopfest like the JumpBall Jamboree and the Learning from the Legends Youth Clinic! You remember Hoopfest - held in conjunction with the Boys and Girls MHSAA State Basketball Tournament, its a fun-filled fan-fest held at Jenison Field House, free with your tournament ticket or $2 at the door. But like I said, back to the things you should really get going on now!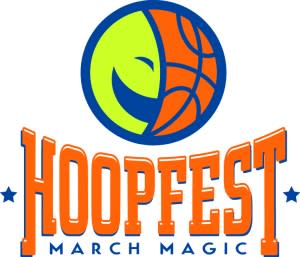 JumpBall Jamboree The Dean Trailways and Greater Lansing Sports Authority Center Courts will play host to the JumpBall Jamboree. Students who are enrolled in 5th through 8th grade, both boys and girls, may register their team online for the opportunity to play on one of the Center Courts of March Magic Hoopfest. There will be as many as 15 exhibitions and volunteer referees from the Greater Lansing area will officiate the exhibitions. Register one participant with our March Magic Hoopfest form
Learning from the Legends Youth Clinic A free basketball clinic for boys and girls grades 4th through 8th will be held Saturday, March 22 in conjunction with the March Magic Hoopfest. In addition to top High School coaches throughout the state, a host of legendary members from the Basketball Coaches Association of Michigan (BCAM) will be clinicians. All facets of basketball offensive and defensive skills will be taught at the clinic.
The clinic will be conducted in one session on the Dean Trailways and Greater Lansing Sports Authority Center Courts and several other venues and participation will be limited to the first 180 to enroll. All attendees will need to check in between 7:308:30 a.m. The clinic will be conducted from 8:3010:00 a.m. Adults as well as the general public is welcome to attend the clinic but venues used in the Learning from the Legends Youth Clinic will be off limits to the general public until the clinic concludes. Register one participant with our online form here.
And don't forget, Hoopfest itself is fun for everyone, not just those that register for the clinics. Remember all the great skill stations?
The Dean Trailways 3-Point Challenge Just like the NBA! This three point challenge tests contestants' long range shooting skills from behind the arc. See if you can sink 12 shots in 30 seconds. Top point totals will be posted each day!
Rainbow Shot Can you sink a long-distance game-winning buzzer beater? Heres your chance!
Two Man & A Truck Around-the-World This is a playground classic! Just like around the world but set to a timer. Who can get around the fastest? First one back home is the winner.
Skills Challenge Can you dribble and dish the rock like Earvin Magic Johnson? Show your best ball handling skills and bring the magic back to Jenison!
Slam Dunk Everyone loves to see a great dunk. Heres your chance to fly. Three dunks per turn.
Kids Zone Games Heres a place for our future stars to play. Stay as long as you want! The only requirement is to have fun!
"Hoopie" Coloring Gallery Color this picture of "Hoopie" and bring it to hang up at the March Magic Hoopfest event! Coloring sheets will also be available on-site.