As we move into the final weeks of August our minds start to turn to new things around us. Summer vacations wrapping up, we've done our traveling, thoughts of school starting back up and the start of college football season are all a part of this time of year.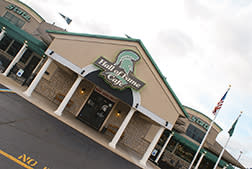 You know what I also think about at this time of year? Absolutely one of my favorite restaurants in the Greater Lansing area. Great food, great drinks, awesome service and totally unique to this community of which I'm so fond. I'm speaking of course of the Spartan Hall of Fame Cafe located near Eastwood Towne Center and US-127 on Lake Lansing Road. This place has been part of the community for a good number of years now and I just love it. As a Spartan fan, being inside is literally like being inside a MSU athletics Museum. Great old pictures and unique pieces of memorabilia adorn the walls and fill all kinds of cabinets throughout this spotless, well-lit establishment. If the Spartan football team is away, or even if they're home but you don't have tickets, seeing the game here is the next best thing to being there. I mean it!
They have huge TV's everywhere you look, perfect for eating and watching MSU football kick butt at the same time (who doesn't love that!). They play the fight song when State scores and if you're lucky, they sometimes even have the cheerleaders come in and do their thing, just to get the crowd fired up. So I think you get my point about the environment and the general experience - top notch. But now I've got to talk to you about the food. They have a huge menu, full of awesome items for just about every taste. From steaks, pasta, burgers, sandwiches, seafood, pizza and ribs to huge salads, amazing soup and so much more, I'm telling you, this place is great. I go there with my family at least once a month, but I guess I think about it even more come fall because as an MSU Alum, I can't help but associate the end of august with the return of the students to East Lansing, and the return of Spartan Football to all of the fans who love it dearly. Truthfully, I consider the Spartan Hall of Fame Cafe a little shrunken down version of MSU Campus. Fun, exciting and full of Spartan tradition and happy people enjoying themselves. It's like tailgating without all the work and the food is better! Get over to the Spartan Hall of Fame, the entire experience is a true Spartan classic.