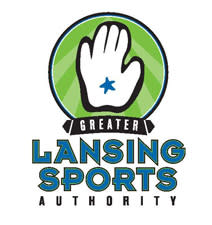 The Greater Lansing Sports Authority was fired up early this week to announce at the Annual Meeting held at the Crowne Plaza Lansing West Hotel the first-ever GLSA awards for Partner of the Year and Volunteer of the Year. The GLSA brought almost 60,000 athletes to the region this year for locally held athletic tournaments and events but it wouldn't be possible without amazing local partners and dedicated volunteers. As the years unfold the GLSA will recognize a great many more, but here are the first.
The Lansing Skating Club GLSA Partner of the Year The Lansing Skating Club (LSC) is one of the oldest, continually active clubs associated with U.S. Figure Skating. The all volunteer, non-profit organization was formed in 1947. While the main focus of the organization is to promote all disciplines of figure skating and the development of skaters of every age and skill level, they also have the ability to host fantastic events. While the GLSA and LSC have long partnered on various events, recently the size and level of those events has grown. Since 2010 the LSC has served as host to three major skating events and their annual Howard E. Van Camp Memorial Competition. In 2013 the LSC hosted the Midwestern Sectional Championships, the last stop before the National Championships and the Sochi Olympics.
Richard (Dick) Miles GLSA Volunteer of the Year Richard (Dick) Miles has been and continues to be a main driving force behind the success and growth of the Capital City River Run. Dick played a critical role in creating the race in 1993 and has served as Race Director since 1996. During his time as Race Director, Dick has grown the event from a fun running event on the Lansing River Trail, in to a race series that includes childrens races, a 5k, a half-marathon and in 2013 a decision was made to incorporate a marathon in to the future series of races. This race series attracts well over 3,000 participants from across the Midwest and Canada, and now serves as one of the largest fundraisers for Impression 5 Science Center.