There is a cool and unique sports opportunity coming up in the Greater Lansing area this weekend that you just have to check out. It's sure to be a memorable sports contest and its a charity fundraiser as well. The event I'm speaking of is the Statesmen versus Celebrity Charity Basketball Game. The event, set for Sunday, January 20, 2013 at noon at Haslett High School in Haslett, Michigan. For just $15 ($10 for Students), you'll see the Statesmen, the World's Gold Medal Winning Dwarf Basketball Team, take on a loaded roster of Greater Lansing celebrities! That's right! Former professional athletes, past Spartan greats, TV celebrities and local media personalities will comprise a celebrity roster that will try to take down this gold medal team comprised of hoop gifted little people from around the globe. How's that for entertainment, and right in your backyard! Along with the game there will be a raffle, an autograph line, great concession treats and much more. Tickets can be purchased at the door, online at www.gofundme.com/statesmenvsceleb, at The Fringe Hair Design at 1647 Haslett Road, in Haslett. With any questions or problems getting tickets, call Amy at 517-944-2093.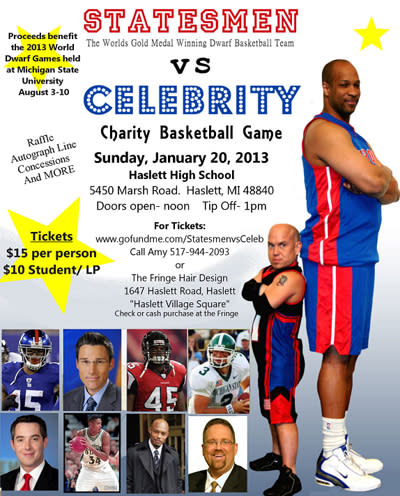 The proceeds from the event will go to help fund the World Dwarf Games, set to be held at Michigan State University this August 3-10, 2013. This event set for this summer is also a great spectator opportunity to see Olympic style sports with competitors from around the world. For more info on the World Dwarf Games, explore www.lansingsports.org
The big game will feature:
Martin Klebba (Pirates of the Caribbean/ Mirror Mirror/ Project X)
Don Reid (Former Detroit Piston)
TJ Duckett (Former NFL and Spartan great)
Zach Roloff ( TLCs Little People Big World)
Devin Thomas (Super Bowl Champ and Former Spartan)
Jason Colthorp (Channel 10 anchor)
Evan Pinsonnault (Channel 6 anchor)
Sunday, January 20, 2013 Haslett High School 5450 Marsh Road Haslett, MI 48840 Doors open- noon
Tip Off 1:00pm
Students/LP's- $11.00 General Admission - $16.00 There is a $1 service fee included in the online price.