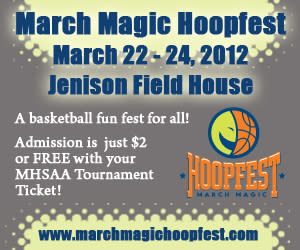 The Greater Lansing community has a lot of events every year. Some of these events celebrate cultural heritage, and some are all about the arts and some celebrate different types of music. They are all a lot of fun in their own ways, but to me, there is really just one event in the regionthat is nothing more than just purefun - March Magic Hoopfest.
This annual event is held in conjunction with the MHSAA Basketball tournaments being held at the Breslin Center. While high schools from across the state battle for top honors there is a lot of fun going on just across the street at Jenison Field House. March 22 - 24 the doors will be open for high-flying hoop antics for all attendees. I am a part of Hoopfest every year and the thing I always think about is how much I would have loved this event when I was a kid. Theres all kinds of basketball themed skill stations and you can just play around, shooting, dribbling, passing and even taking on a friend in one-on-one. Its a blast. Entry to March Magic Hoopfest is just $2 or free with your MHSAA tournament ticket, so its something you can bring the whole family to without breaking the bank.
Something else I highly recommend is being a volunteer for Hoopfest. You've never had so much fun giving back to the community; let me say that right up front. I volunteer for it every year and now I just won't miss it. I love rebounding for people at the 3-point shoot out and timing people as they go through the skills challenge. All kinds of volunteers are needed to make this great event happen so give it some thought, you'll be glad you did. Not only will you gain access to Hoopfest, you'll have a cool Hoopfest volunteer t-shirt to remind you of the event. For more information on how and when you can volunteer for this sweet event, visit www.marchmagichoopfest.com.
Read below to see all the specifics on this great event.
Location: Jenison Field House, Campus of Michigan State University, East Lansing, Michigan Visit www.marchmagichoopfest.com for parking information and directions.
Dates & Times: Thursday, March 22th - 2 p.m. to 7 p.m. Friday, March 23th 2 p.m. to 7 p.m. Saturday, March 24th 10 a.m. to 7 p.m. Learning From the Legends Clinic 8:30 -10 a.m. Advance registration required.
Admission: $2 per person or Free with MHSAA game ticket
Activities:
Learning From the Legends Youth Clinic A free basketball clinic for boys and girls grades 4th through 8th will be held Saturday, March 24 from 8:30 10 a.m. Many great basketball coaches from around the state of Michigan will be the clinicians. All facets of basketball offensive and defensive skills will be taught at the clinic. Participation is limited to the first 160 children to register. Applications are available at www.marchmagichoopfest.com.
Dean Trailways 3-Point Challenge Just like the NBA! This three point challenge tests contestants' long range shooting skills from behind the arc. See if you can sink 12 shots in 30 seconds. Top point totals will be posted each day!
Rainbow Shot Can you sink a long-distance game-winning buzzer beater? Heres your chance!
Meijer Jersey Toss Take a break from shooting hoops to do some laundry? Crazy, we know, but this time its fun. Take a turn at tossing some balled up jerseys into the Meijer Dryer and win some great Meijer products!
Free Throw Challenge We all know its a key part of winning close games how many can you hit from the charity stripe? Step up and take your best shot! Top free-throw shooters will be posted each day!
Hit the Spot This is a playground classic! Just like around the world but set to a timer. Who can get around the fastest? First one back home is the winner.
Skills Challenge Can you dribble and dish the rock like Ervin Magic Johnson? Show your best ball handling skills and bring the magic back to Jenison!
Hoopfest Slam Dunk Everyone loves to see a great dunk. Heres your chance to fly. Three dunks per turn.
Kids Zone Games Heres a place for our future stars to play. Stay as long as you want! The only requirement is to have fun!