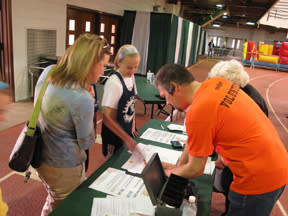 If you love Basketball and you've been around at all you know all about March Magic Hoopfest.
The Greater Lansing Sports Authority is once again teaming up with the Michigan High School Athletic Association (MHSAA) to present an interactive basketball playground for basketball fans of all ages! March Magic Hoopfest will take place March 26-28, 2015, in MSU's Jenison Field House, held in conjunction with the MHSAA Boys Basketball Semi Finals and Finals which will be played in the Jack Breslin Student Events Center. The March Magic Hoopfest includes a variety of games, basketball skill venues, historical displays and educational activities, and is open to all basketball fans. This event will bring both fun and a positive economic impact for our community. We need your participation as a volunteer! And believe me when I say, you've never had a more fun volunteer opportunity. Rebounding for folks as they try the 3-point shoot out. Providing the next basketball for a couple of kids trying to put one down at the Dunk Zone. Keep the little hoop-lovers under control in the Sparrow Kids Zone. Its a blast! And you come away from the event with a stomach full of grub, a cool volunteer t-shirt and a brain full of awesome memories you'll cherish forever.
More volunteer duties include monitoring entrances to game venues, scorekeeping, operating shot clocks, returning basketballs to shooters or to bins, giving directions regarding a game, etc... Volunteers will receive: Complimentary admission to Hoopfest Volunteer T-shirt Access to volunteer hospitality area in Jenison Field House (including light snacks) A fun time! You are welcome, and encouraged, to work more than one shift. We're using VolunteerSpot (the leading online signup and reminder tool) to organize our upcoming activity. Please sign up for 2015 March Magic Hoopfest - here's how it works in 3 easy steps: 1. Click the following link to see our Sign-Up on VolunteerSpot: http://vols.pt/b7M8WG 2. Enter your email address: (You will NOT need to register an account on VolunteerSpot) 3. Sign up! Choose your spots - VolunteerSpot will send you an automated confirmation and reminders. Easy!