If you've never been to March Magic Hoopfest at the Jenison Fieldhouse you've been missing out on a super cool experience, especially if you're a basketball nut. This time of year everyone is watching basketball and thinking about basketball - but what about playing basketball? Don't you want your shot at glory? Or to set the record in the 3 point shoot out? Maybe beat your Dad in a game of HORSE? All this fun and more awaits at March Magic Hoopfest. The event is held in conjunction with the MHSAA Boys State Basketball tournament going on at the Breslin Center. Going to the games at Breslin? Stop over to Hoopfest for some game fun of your own! Just in the area and want to spend the day getting hot and sweaty? Hoopfest awaits for just $2 admittance. Come and play all day if you want. What exactly is there to do at Hoopfest? Glad you asked.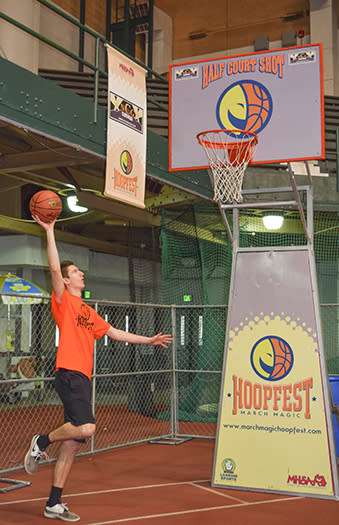 The 3-Point Challenge
Just like the NBA! This three point challenge tests contestants' long range shooting skills from behind the arc. See if you can sink 12 shots in 30 seconds. Top point totals will be posted each day!
NCG Cinemas Half-Court Shot
Can you sink a long-distance game-winning buzzer beater? Here's your chance!
March Magic Hoopfest Two Men and a Truck - Around the World
This is a playground classic! Just like around the world but set to a timer. Who can get around the fastest? First one back home is the winner.
Michigan National Guard Skills Challenge
Can you dribble and dish the rock like Ervin Magic Johnson? Show your best ball handling skills and bring the magic back to Jenison!
The Buffalo Wild Wings Slam Dunk
Everyone loves to see a great dunk. Here's your chance to fly. Three dunks per turn.
Sparrow Kids Zone Games
Here's a place for our future stars to play. Stay as long as you want! The only requirement is to have fun!
"Hoopie" Coloring Gallery
Color this picture of "Hoopie" and bring it to hang up at the March Magic Hoopfest event! Coloring sheets will also be available on-site.