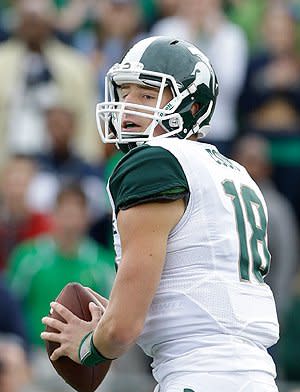 Well Spartans, this is it. The next phase of our ultimate challenge that has become the 2015/16 Football season. We've won the Big Ten East and now its time to face unbeaten Iowa, the champion of the Big Ten West, for the Outright Big Ten Championship in Indianapolis this Saturday. Its been a season full of last-second thrills and heart-stopping plays now culminating in a big time championship game. But, in todays college football landscape, its not enough to win the Big Ten. Oh no. The Spartans have their sights set on the Football Four, better known as the College Football Playoff, in a fight for the College Football National Championship. But before we get ahead of ourselves we need to focus on the fight at hand - That Big Ten Championship game in Indy!
This is a classic match-up of Big Ten Foes who have similar strengths and game plan and its bound to turn into a battle of wills and a measure of toughness. I like the Spartans in that fight every time. Plus, there is just this feeling that we are on a mission this year. For more. For excellence. To reach higher. Let's stay focused, cheer loud and GET THERE!
So of course you'll be watching the game, but if you're not lucky enough to be in Indy for the action live, think now about where you want to be to cheer for the Spartans alongside hundreds of other raving fans. Greater Lansing is full of Spartan haunts and great Green destinations, just browse our website and make your plans early. With an 8:17 p.m. Kickoff you'll want to be in your spot for the game a ways before the start, so have a plan soon.
Huge game. Huge opportunity. We need everybody on this one. Let's go Spartan Nation! Come out in force and cheer with all your might! GO GREEN GO WHITE!!