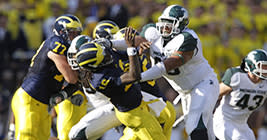 When the temperatures drop and the calendar shows the dates of late November thoughts turn to Thanksgiving Day, the traditional feast and all the people and things for which we are most thankful. Foremost in my mind when I count my blessings each year are the comfort and health of my family, but I have to say, this year, its become almost impossible to ignore the abundance of good fortune and big wins coming from the Michigan State University Athletic program -specifically Football and Men's Basketball. Yup, you guessed it, this year I'm just smiling ear-to-ear as I say, I'm THANKFUL to be a SPARTAN!
When MSU Football began and the Spartan offense was searching for an identity, lets just say the Spartan bandwagon was a bit lonely - but there I sat, like I do every single year. Win or lose, I'm green right down to my bone marrow. So lets just say while I'm always a Spartan, its a heck of a lot more fun when they take the Big Ten by storm like they have this year. Led early on by a defense that ranks among the Nation's best, then leveraging a balanced offense and powerful D, the Spartans have mowed through the season, specifically in conference play to take the Legends Division Championship. The stage is now set for a big time match-up for the Big Ten Championship in Indianapolis between the Spartans and Ohio State.
Not to be outdone,MSU Basketballbrings a #1 national ranking into the early part of the 2013/2014 season and from what we've seen so far, they deserve every bit of it. With possibly the most talented team in Coach Izzos history, get ready for some incredibly dynamic offense balanced against the traditionally tough Spartan D. With early wins against then #1 Kentucky and a mini-tournament win in the Coaches vs. Cancer Classic, the Spartans are off and running and looking incredible.
Let me boil this all down to one fantastic and glimmering truth. We are experiencing Spartan sports superiority simply unseen in history. Michigan State Basketball is currently ranked #1 in the Country. Michigan State Football is undefeated in Big Ten play, Legends Division Champions and the door is wide open for a Big Ten Championship and birth in the Rose Bowl. Yes, its dreaming a little, but its not out of the question that we could have a Rose Bowl Championship football team AND National Championship Men's Basketball team in the SAME YEAR. If you're Spartan proud like me, that just gives you chills.
So while we're counting our blessings and going over everything for which we are thankful, I know one thing that makes the tops of my list. I'm thankful for the incredible seasons we're seeing from Spartan Football and Men's Basketball. This year, like every year, I'm thankful to be a SPARTAN!!