It's Spartan Homecoming 2013!
Homecoming is a very special time on the campus of Michigan State University with students taking advantage of the great fall weather and alumni reconnecting with familiar sights and former classmates.
Really the whole notion of a home-coming conjures images of welcoming faces, cherished places and fond memories from the past. Whether that home is your actual home, or a place that you made home, it doesnt really matter. Its the feelings, people and old memories coming back to you like a forgotten favorite story that are truly worth slowing down to cherish. If youre a Spartan, and Michigan State University was your college home away from home, that time for fond remembrances is this week, October 7-12, 2013.
Homecoming at MSU is a time to reflect, reconnect and enjoy all things SPARTAN!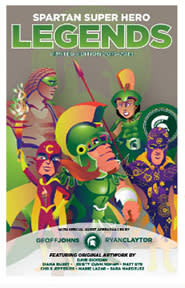 At MSU, homecoming is a lot more than a football game. Heck, around here, we celebrate that all through the fall. No, homecoming is full of all kinds of special events, held in special places throughout campus. Click on the links below for a full list of all things Spartan Homecoming 2013.
http://alumni.msu.edu/programs/homecoming/
http://www.msu.edu/about/thisismsu/facts.html
It really is cool to see all the neat things going on, and as a Spartan Alum myself I beam with pride. I will suggest to start your weekend off on Friday, October 11 you can start things off with an awesome meal at any one of a dozen classic East Lansing restaurants. Take your pick. The Spartan Hall of Fame Cafe, Coral Gables, Beggars Banquet, etc. check out the things to do Dining section of this site for a complete list of suggestions (heres a link if youre feeling lazy Restaurants in Lansing Michigan).
This year's Homecoming theme is "Creating Spartan Super Heroes" in honor of our Grand Marshal Geoff Johns, and let me say, as a fan of comic books - This guy is one cool Spartan Alum.
Johns is a 1995 graduate from the College of Communication Arts and Sciences with a degree in Telecommunications. He is currently the Chief Creative Officer of DC Entertainment in Burbank, CA and a superstar in the comic book industry. Geoff has been writing for characters such as Green Lantern, The Flash and Superman and wrote Justice League #1, working with legendary artist Jim Lee. In addition to his comic book work, he has also written episodes of TV's Smallville and co-produced the movie Green Lantern.
Of course, Saturday morning, bright and early, Spartan Nation will be ready to rock once again as the Spartan Football team takes on Indiana in a classic Big Ten showdown. After tailgating for that and either going to the game or watching it in your favorite old East Lansing college bar (The Riv, Crunchys, Ricks, OMalleys? Yup, all still there) If you want to go new school, check out some of the new offerings in EL like Hop Cat, and What Up Dog - just to name a few! I know getting together with old friends and living it up is the business of the day, but I also highly recommend a walk around campus to clear your head and walk down memory lane. I know when I walk though campus with my kids I find myself saying, I had a ton of classes in that building. I used to eat lunch in here at the Student Union all the time! Hey, this is the State News, I always read this! and things like that. If youve moved far away from MSU youll find campus is still gorgeous, no matter the season. Then end your walk with a stop into the Student Book Store, for some updated Spartan gear to take home with you. Well, to your new home, that is. When youre a Spartan, East Lansing will always be home too. What an awesome feeling that is!