The Return of Spartan Football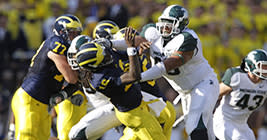 There's no two ways about it. It's simply a special time of year. Summer is winding down, but we are still treated to a remaining few sunny and warm days, even as the trees begin to change from summer green to fall red, brown and yellow. School is back in session and here in East Lansing Michigan, faithful Spartans celebrate the return of Michigan State Football. Saturdays now take on a new life as fans of the Green and White dig out their tailgate gear, call their friends and clear their calendars for a few special days in the coming months, that frankly feel like holidays. That is, of course, the time-honored tradition that is the Spartan home football Saturday. There is so much to enjoy, just the thought of this illustrious tradition brings a smile to my face. Cherished places, faces, recipes, fun drinks, great gear, the gathering of community and the pride of my alma mater...ahhh! Then, of course, you've got the game itself, and the promise for a truly special season. Mark Dantonio has a dedicated crew of warriors and win or lose, you know they'll be fighting and scraping for every inch out there on the grid iron.
The first Spartan battle of the season is this weekend, versus the Broncos of Western Michigan University. The early games of the season always have a summery feel and it just has a way of lending even more good mojo to this super fun experience. Even if you aren't going to the game, gathering friends and family to your big screen and having a full cooler and 5 crock pots bubbling away with something delicious is too much fun. It's a special time to be in East Lansing, and a special time to be a Spartan, no matter where you are. Get into it and get excited. This is it, another season of Spartan football is here! Check out the schedule and get ready to Go Green - Go White - GO STATE!