LANSING, Mich.—The Greater Lansing Sports Authority (GLSA) and the Capital City Crushers Women's Disc Golf Club are pleased to announce that the Professional Disc Golf Association (PDGA) has selected Greater Lansing, Michigan as a site for the 2018 PDGA United States Women's Disc Golf Championships. Slated for September 20-23 the event will be held at Burchfield Park in Holt and will welcome 70-125 athletes from across the nation for three days of top competition.
 
"We're thrilled to be holding this championship event in Greater Lansing next year, and we encourage local fans of the sport to come out and support these outstanding athletes," said Mike Downes, Events Manager with the Professional Disc Golf Association. "Lansing has been a hot bed for this sport for a number of years and disc golf is arguably one of the fastest-growing sports in the country. Our membership has grown by 23% over last year and we're excited to be bringing the largest national women's disc golf event in the country to Greater Lansing."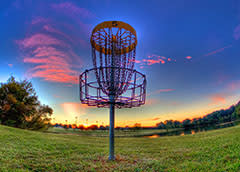 PDGA research supports Downes' remarks. The PDGA will have over 3,100 sanctioned events this year and just five-years-ago they topped out at 1,500 events across the nation.
"The Greater Lansing disc golf community is excited to host this high-profile tournament," said Mike Price, Executive Director of the GLSA. "The Capital City Crushers, Jeff Gehl with Ingham County Parks and the GLSA will work together to deliver a quality event for the PDGA athletes as well as roll out the red carpet for a lot of fun while visiting our community."
 
The PDGA is the international governing body for disc golf and is the largest organization for disc golf in the world. The PDGA is a member governed 501(c)(4) non-profit association based in Appling, Georgia. Founded in 1976, the PDGA is made up of more than 90,000 members who live and play in 29 countries worldwide. Each year the PDGA sanctions over 3,100 competitive events for professional and amateur players. For more information visit www.pdga.com.

The Greater Lansing Sports Authority (GLSA) is a division of the Greater Lansing Convention and Visitors Bureau. The GLSA's mission is to be the leading voice of sports tourism in the Greater Lansing area and to promote economic growth by attracting a diverse range of sporting events to the region. The GLSA strives to enhance the quality of life for area residents through the development of local sports and fitness programs for all ages, and to support the continued development and maintenance of safe, high-quality athletic facilities.