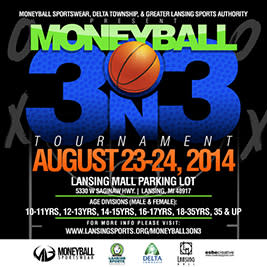 Whether you love playing basketball or watching good basketball you've got to open up your schedule for the basketball event of the summer. Get a team together or just get down to the Lansing Mall on August 22-24, 2014 for the Moneyball 3-on-3 Tournament. Moneyball Sportswear, Delta Township and the Greater Lansing Sports Authority are proud to present this big time tournament in its first great year offering male and female divisions from 3rd grade through high school, then an open division and even a 35 and up division. With numerous courts set up behind the Lansing Mall Yonkers there will be teams of all ages and skill levels balling for top honors. Registration is $140 per team (just 4 players per team) or $160 per team after August 1st. If you and a few friends have any skills and think you can put together a run in a hot tournament visit the event website and get registered today.
Desmond Ferguson, owner of event sponsor Moneyball Sportswear had this to say about the inaugural roundball event. "We are excited about partnering with Delta Township & Greater Lansing Sports Authority to bring the Moneyball 3 on 3 basketball tournament to the Lansing area. I grew up playing in 3 on 3 tournaments right here in Lansing and I feel the Lansing Mall parking lot is a great place to hold such an event. We look forward to providing a fun and eventful weekend for all the teams, families and communities involved."
There is still time to register for this tournament that is sure to be awesome, but even if your basketball days are behind you, come out to the Moneyball 3-on-3 to watch some excellent hoop action. It's not just basketball - It's Moneyball!