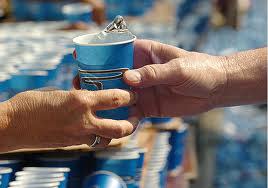 If you're a runner at any skill level you've most likely heard of the very successful Capital City River Run Half Marathon and growing entire weekend of races going on September 14th and 15th in Greater Lansing. People are coming from all over to test their endurance in this race that takes participants winding through downtown Lansing, over into East Lansing and along the scenic Greater Lansing River Trail. From big-time runners clocking 6 minute miles to friends just walking most of it for fun and fitness the streets and river trail will be full of folks looking to get their heart rate pumping. As you can imagine, all these people running requires order, planning and lots of support. That is where the incredibly valuable volunteers come in. Truth is it takes more than 300 volunteers just on race day to staff the Impression Five Half Marathon and the Cooley 5K Race for Education. Volunteers make the race possible and provide vital services to runners and walkers. There is something really cool about helping to support an event like this that you really should experience. Handing out water, Gatorade and lots of encouragement is literally nothing short of inspiring. Maybe you're not a runner, or used to be and your legs just aren't what they used to be for whatever reason, I swear you pick up that famed "runners high" just by being part of this big event and helping people get somewhere they didn't think they could go. If you've not done much volunteering before, don't let that scare you, in fact, what a great way to broaden your comfort zone. To put you at ease, here are a few bits of info you'll want to know.
VOLUNTEER BASICS
The Half Marathon and the 5K event staff will provide assignments and necessary training. Since the CCRR benefits the non-profit Impression 5 Science Center and the Cooley 5K benefits schools, volunteers are eligible to receive community service hours. Volunteers also receive a long-sleeved technical race shirt. A party will be held at for all volunteers. They will receive after-party details in the weeks following Race Weekend.
Like I've said, it takes a ton of volunteers to make this event work, and all the people that do lend a hand end up coming away with a cool T-shirt, a big smile and a warm feeling in their heart. Join the ranks of these valuable volunteers! The Capital City River Run website has a place for you to sign up to volunteer and the Greater Lansing Sports Authority can help answer any questions you might have. We need volunteers and you need the great feeling that comes with being a part of this awesome community event. Now that's a win-win!