Yes! I said Sk8 to Rel8! No I'm not a terrible typist. This is my fun way to get you charged up about skating - Ice skating that is, either free skating around the rink, clinging to the edge for dear life, or figure skating or even playing hockey. The local ice in Greater Lansing are awesome and very busy places, but they still have open times for you to get out there and do your best for free.
Here's the open skate info for the Summit Sports and Ice Complex: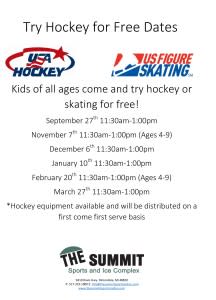 Kids of all ages come and try hockey or skating for free! December 6th 11:30am-1:00pm January 10th 11:30am-1:00pm February 20th 11:30am-1:00pm (Ages 4-9) March 27th 11:30am-1:00pm *Hockey equipment available and will be distributed on a first come first serve basis
Here is the open skate info for Suburban Ice East Lansing:
January 10th National Exhibition at 3:30pm and then Try Skating for Free 4-4:50pm December 30th 4:30-5:20pm Try Hockey for Free USA Hockey Try Hockey for Free February 20th 2-3:20pm
No matter which facility you choose, or how good you are at ice skating, its fun, and good exercise, so get out there and sk8 to rel8 because sk8ing is gr8!