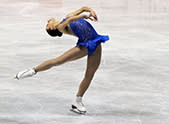 There is something about ice sports in the Greater Lansing area that are just plain hot. Now I know, heat melts ice, but that's just the only way to put it that does it justice. From hockey to figure skating to curling and more the Greater Lansing area plays host to all kinds of tournaments on ice that really deliver excitement for both competitors and fans. Part of the reason Greater Lansing is such a hot bed for ice sports is the awesome tournament facilities offered here that support tournaments of this type. First, the Summit Ice and Sports Complex, offers two sheets of ice, tons of space and is conveniently located on 9410 Davis Highway in nearby Dimondale. Additionally the Greater Lansing area offers Suburban Ice East Lansing at 2810 Hannah Boulevard behind the Michigan Athletic Club. Suburban Ice offers two sheets of ice as well, making them both ideal for major tournaments that bring top competition and big economic impact to the region.
The area just finished hosting the 2014 Midwestern Sectional Figure Skating Championships, November 20-23, 2013 at Suburban Ice. I had the pleasure of coming out and taking some photos at this event and let me just say - this was top notch competition! Don't take my word for it though, ask US Figure Skating! Top ranking competitors at this Sectional event will go on to National qualifiers and potentially on to the US Olympic Team! Wow!
Coming up later this summer the Greater Lansing area will play host to the 2014 USA Curling Arena National Championships on June 12-15, 2014 at the Summit Ice & Sports Complex. Now I dont know much about curling but I know the people that love it take it really seriously! People will be coming all over for this major national event and even though the event is in June and it will be hot outside, this event will be pure cool for anyone who checks it out.
Just to name one more the GLSA is really excited to announce the area will be hosting the 2015 USA Hockey Girls Tier II National Championships March 26-30, 2015 at both Suburban Ice & Summit Ice & Sports Complex. This is a huge national event, for a sport that is spreading like wildfire, and its so big that we had to pull two venues in for hosting duties. Teams from all over the country will be coming in for a few days of tournament play, as well as some dining, shopping and generally enjoying our fair city. Sounds about perfect, right? This is why the GLSA exists - Creating opportunities for fun, fitness, family travel and a boost to the local economy for good measure. Yep, ask anybody and they'll tell you, in Greater Lansing, ICE is NICE!