I know, at first its kind of a strange notion. Green versus white? That seems odd, right. I mean, around here, green and white go together! United against the world. Inseparable, like mashed potatoes and gravy, peas and carrots, beer and hot wings - you see what I mean. This is Spartan Country and Green and White are the colors we wear together with pride. Well, even though all that's true, at a few very special times of the year we get to mix things up a bit and we see our beloved Spartans turn inside their own circle and go brother versus brother in a full-speed tune up for the challenges that await with the on-coming season. I mean, heck, after all, what better way to get ready for your enemies than to face other members of the strongest and meanest football team in the land, the Michigan State Spartans! It's odd to see, but actually really smart.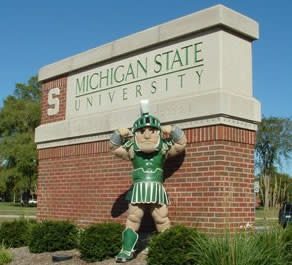 This Saturday at Spartan Stadium is the annual MSU Football Green and White game and it's an important opportunity for Coach Dantonio and his crew to evaluate talent and see how things are shaping up as spring practice comes to a close. While this game is all business for the MSU coaches and for the Spartan players trying to play well for increased minutes come fall - its all fun for us fans. It's not only an important day of evaluation for the football program, its fun and FREE to the SPARTAN-NATION. I love seeing how some of my favorite players from the previous season are coming along and I really enjoy getting a glimpse at the up and coming talent as well. The spring game is an excellent way to get a sneak peek at who is in line for what position and all the other details that real football lovers just crave during the off-season.
Now I know there is nothing better than seeing the Spartans mow through the Big Ten and watch them pick wolverine meat out of their teeth but the Green versus White game is a cool opportunity none the less. Right now, as we get ready for the season we can sharpen our swords, re-awaken our mean-streak and go brother versus brother for a day. I know green and white goes like peanut butter and jelly, but green VERSUS white well that's like... like - Thunder versus Lightning! Come see the sparks fly, I know me and my crew of Spartans will be there!
MSU Football Spring Game -- April 20, 2013 - Location: Spartan Stadium - Times: 1:00 pm - Admission: Free!