Silver Bells in the City is a special kind of event. Not just special because it's Michigan's Capital City's formal kick-off to the Holiday Season, its also special because you can enjoy this event in a lot of different ways. Feel free to take my word for it too, because I've enjoyed this event from both ends of the spectrum. I like to say Silver Bells in the City has two faces. Let me explain what I mean.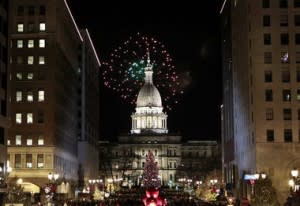 First is the family fun side of Silver Bells in the City. Now while this is fun, it isnt no-stress, easy as a sunday morning fun. Its meant to be fun for the kids, which means work for you. This means you are kind-of in "all-business" mode as a parent and you're all about your kids having a great and memorable time, and you are the brains and the muscle of the outfit. You're carrying heavy things, potentially changing diapers, holding one child in your arms and another on your shoulders as your feet and knees cry out in pain you are enduring cold and some discomfort to make sure your kids are having an amazing time. You want them to see the parade, make a cookie, see Santa - you follow me. Now I dont mean to make this sound like all work, because its fun and rewarding, but its not about you. You're navigating through crowds and playing the role of pack mule and generally making sure the kids are warm, dry, happy and able to see the parade going by. At events like this you make incredibly special memories with your kids and spouse or significant other, and its something you will treasure for all time. Your kids will remember what you did for them, and the time you spent with them and it will make the hours you spent holding the kids, a stroller and a huge diaper bag, feel like the blink of an eye. I feel, in most ways, Christmas is for kids and this event is nothing if not kid-friendly. From the electric light parade to a big time community-sing, to cookies and hot cocoa at local businesses, to live music and dance and drama performances, there are nearly a dozen activities that the whole family will love. I remember the first year I brought him, the fireworks display scared my son. Now, if he could, he'd be first in line to help the crew blast the fireworks off. I guess that's how time works. I, for one, am glad I did my best to make the most of it.
Second is the other face of Silver Bells in the City. This is the face that does not include children at all. This is the opportunity to enjoy this event with no child watching for you and a few more adult-infused entertainment options. Now if you're a parade person, good for you, still by all means enjoy that, but let me make sure you're aware all the Washington Square and general downtown nightlife spots will be open and ready for the crowds. Have a couple of drinks, do a mini Silver Bells Pub Crawl and then pick a hot spot like Troppo or Tavern & Taps and have a nice dinner and then stroll out into the streets and catch the lighting of the tree and the fireworks show to follow. Then after the fireworks show, meet up with some friends and head back to a cozy bar to warm up and talk about the many ghosts of Christmas past.
So whether you're in family mode, or adult mode, the Silver Bells in the City event is one of the classics around the community and there are just about a million ways to enjoy it. Get out there on November 21st and have some fun, whomever you bring with you!