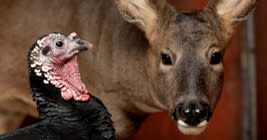 Outdoor enthusiasts of all kinds will want to make their way to the Summit Sports and Ice Complex in Dimondale over the dates of February 22-24 for the big Michigan Deer & Turkey Expo.
From rifle to bow, to open fields to woodsy areas to deer and turkey this event is the alpha and omega of Michigan outdoor gamesmanship. Looking for up-to-date into on the latest gear? You'll find it here. Want to see stuffed big game, deer of all varieties and big beautiful turkeys? Yep, this is the place. Want to talk turkey and hear Deer stories from around the state? Stroll through the over 220 exhibit booths! Looking to learn new techniques, strategies and stories from the field? Over 30 seminars are free to expo ticket holders. Come and learn all the things your Grandfather who hunted for 25 years apparently forgot to teach you. If you are a hunter, or an outdoorsman/woman, this is the place to be. Looking for more information? Visit www.deerinfo.com/michigan
Don't go hunting for info - everything you need is here!
Location The Summit Sports and Ice Complex 9410 Davis Hwy Dimondale (SW side of Lansing), MI 48821
Event Hours
Friday, Feb. 22, 2013 - 2:00 pm to 9:00 pm Saturday, Feb. 23, 2013 - 9:00 am to 7:00 pm Sunday, Feb. 24, 2013 - 9:00 am to 4:00 pm
Deer and Turkey Expos - Larry Wise, Tech Info Center Ask the Experts Tech Info Center in Michigan Get your hunting equipment and accessories questions answered here, one-to-one, by experts in several equipment categories.
Deer and Turkey Expos
Contests In Michigan There are three contests: Big Game (whitetail deer, black bear, elk, and turkey) and two photo contests.
Exhibit Booths in Michigan See a wide range of products and services at more than 220 exhibit booths.
Michigan Seminars There will be 30 presentations on nearly a dozen topics over the three days of the expo. All seminars are FREE once you have purchased your admission ticket.
New Products Area in Michigan Exhibitor-Manufacturers new products are displayed in a well-identified area just inside the main entrance